.
http://blogs.wsj.com/dispatch/2010/07/26/hamid-gul-responds-to-wikileaks-allegations/
July 26, 2010
Zahid Hussain and Tom Wright
Hamid Gul Responds to WikiLeaks Allegations
Former Pakistani spy agency chief Lt. Gen. Hamid Gul denied that he has any links to al Qaeda or Taliban insurgents and said he is willing to go to America to face any charges.
"Report of my physical involvement with al Qaeda or Taliban in planning attacks on American forces is completely baseless," the former Inter-Services Intelligence chief said in an interview with The Wall Street Journal. "I am not against America, but I am opposed to what the American forces are doing in Afghanistan."
In the murky world of Pakistan army links with militants, it's often difficult to ascertain whether former military officers like Mr. Gul are working with the tacit approval of current army personnel.
Mr. Gul, however, does not work mainly in the shadows. He's a regular presence on nightly TV talkshows, expounding his anti-American views.
The ISI denied that Hamid Gul had continued to operate on behalf of the spy agency after officially leaving the organization two decades ago.
"He hasn't worked for the ISI in any capacity since he left the organization," said Zafar Iqbal, a spokesman for the ISI. "He doesn't have any sanction from the ISI," he added.
Gul, who served as director general of ISI from 1986 to 1989, had worked closely with the Central Intelligence Agency in organizing a covert war against the former Soviet Union forces in Afghanistan. Gul likes to call himself a "Muslim visionary" and has remained actively involved with Pakistani radical Islamic movements and Afghan Mujahideen leaders such as Gulbuddin Hekmatyar since his retirement from the army in 1991. He has been a strong critic of America since then.
Gul now lives in a high-security neighborhood in Rawalpindi, which is also the headquarters of the Pakistan army. "I am their favorite whipping boy and it is not the first time that such a allegations are made against me," he said. "It is almost two decades since I am retired from the ISI, but they keep accusing me for everything."
Gul said he was prepared to appear before an open American court to defend himself against the allegations. "I am not afraid of them, but the Americans are afraid of me."
He said the U.S. officials were trying to make him a scapegoat to hide their own mistakes. "The U.S. cannot escape defeat in Afghanistan and it is about time that American officials realize their mistake and pull out from there."
He said the leaked U.S. intelligence reports have targeted the Pakistani army and the ISI, which he said were aligned with the United States.
related post:
http://news.yahoo.com/s/ynews/ynews_wl3247
Leaked files indicate U.S. pays Afghan media to run friendly stories
Jul 27
Buried among the 92,000 classified documents released Sunday by WikiLeaks is some intriguing evidence that the U.S. military in Afghanistan has adopted a PR strategy that got it into trouble in Iraq: paying local media outlets to run friendly stories.
Several reports from Army psychological operations units and provincial reconstruction teams (also known as PRTs, civilian-military hybrids tasked with rebuilding Afghanistan) show that local Afghan radio stations were under contract to air content produced by the United States. Other reports show U.S. military personnel apparently referring to Afghan reporters as "our journalists" and directing them in how to do their jobs.

Such close collaboration between local media and U.S. forces has been a headache for the Pentagon in the past: In 2005, Pentagon contractor the Lincoln Group was caught paying Iraqi newspapers to run stories written by American soldiers, causing the United States considerable embarrassment.

In one of the WikiLeaks documents, a PRT member reports delivering "12 hours of PSYOP Radio Content Programming" to two radio stations in the province of Ghazni in 2008, and paying one of them "$3,900 for Radio Content Programming air time for the month of October":
"The PRT provided 12 hours of PSYOP Radio Content Programming to Radio Ghaznwyan FM Station and Radio Ghazni AM/FM Station for week of 6-12 Nov. Topics included Afghanistan History, Law, and Human Rights in both Dari and Pashto, and a spreadsheet with the specific radio content programming for the week of 6-12 Nov will be forward sepcor to SPARTAN. Additionally, PRT paid Radio Ghaznwyan $3,900 for Radio Content Programming air time for the month of October."

Radio Ghaznawiyaan was established and funded by the Agency for International Development, but USAID has described it in the past as a success story for local independent journalism launched with American help. So its listeners may be surprised to learn that it is an outlet for paid U.S. "PSYOP radio content."

Another message, from 2008, records a meeting that members of the Bagram PRT held with Rahimullah Samander, the news director of the Wakht News Agency and president of the Afghan Independent Journalists Association. Samander, the memo says, "proposed a partnership with the PRT" and "offered to include PRT news articles and photos on his news service":
"Kapisa team met with a Kabul radio representative at the Kapisa TV and Radio Station. Met with Rahimullah Samander, news director for Wakht News Agency and president of the Afghan Independent Journalists Association. He provided information about his organizations and proposed a partnership with the PRT. He offered to include PRT news articles and photos on his news service. The PRT IO recommended a conference including Afghan and US military journalists to collaborate and share ideas. Samander hopes to increase the presence of his agency in Kapisa province."

Another 2008 memo records a similar meeting among psychological operations soldiers, Jalalabad PRT members, and representatives of Radio Television Afghanistan and the Shaiq Network. Both of these news organizations were directly contracted by psychological operations units to air friendly content:
"The TF has a new PSYOP contract with RTA and a continuing PSYOP contract with Shaiq Network; additionally, these are key IO mediums. The purpose of the meetings were to introduce new HQ PSYOP members to the RTA and Shaiq managers, provide initial payment for the RTA contract, receive a PRT Advertising Campaign contract bid proposal from Shaiq (for the pending garbage removal initiative in Jalalabad), and tour both facilities."

The report, written by an Army information operations officer, describes the Afghan journalists as "very pro-CF [coalition forces]" and surmises that "there is a lot they are willing to do for the CF."

Two other messages seem to show U.S. soldiers referring to local Afghan media as extensions of their own units rather than independent reporters. In 2007, after insurgents attacked an Afghan National Police convoy, a member of Task Force Rock wrote that "we ... had our journalist conduct an interview with the Afghan National Police District Chief who condemned the attacks on their fellow countrymen." In another 2007 message, a Task Force Diablo soldier reported that after Taliban gunmen assassinated a local businessman, leading village elders to question the Afghan police's ability to keep the peace, "we were able to send the journalist in with our cultural advisor to speak to the elders."

An inquiry after the Lincoln Group revelations found that paying foreign news outlets to run friendly stories did not violate Department of Defense policy or U.S. law, though the practice seems to have been discontinued in Iraq.

A Defense Department spokesperson did not immediately return an e-mail seeking comment.
— John Cook is senior national reporter/blogger for Yahoo! News.
--------------------------------------------------------------------------------------------------------------
http://www.waynemadsenreport.com/articles/20100720_3?
By courtesy of Wayne Madsen
July 20, 2010
Hellerstein ruling provides cover for U.S. intelligence illegal covert ops
U.S. District Judge Alvin Hellerstein's July 15th decision to deny the American Civil Liberties Union's request to compel the government to release details of the CIA's "enhanced interrogation" methods on 9/11 detainees provides the legal cover for the CIA and other U.S. intelligence agencies to hide their illegalcovert methods used abroad and domestically. Hellerstein, who has been one of the most activist judges in denying requests for a full disclosure of government intelligence involving the 9/11 attacks, wrote in his decision, "Courts are not invested with the competence to second-guess the CIA director regarding the appropriateness of any particular intelligence source or method."
In 2008, Hellerstein tossed out a law suit filed by 9/11 victims' families asking for the debris at the Fresh Kills, Staten Island waste dump to be sifted for the remains of their loved ones so they could receive a proper burial. Hellerstein was obviously worried about what other evidence might be sifted from the debris piles, evidence that would point to more than airplanes bringing down the World Trade Center. In 2009, Hellerstein, again, ruled to cover-up 9/11 by dismissing a lawsuit against New York City's Office of Emergency Management for negligence in helping cause the collapse of Building 7 of World Trade Center by permitting diesel fuel to be stored on the roof.
Hellerstein has now given a green light to U.S. intelligence agencies for continued protection from law suits and other sanctions under the guise of national security.
Obama and his four predecessors have continued to violate Executive Order after Executive Order in permitting U.S. intelligence operatives to blatantly engage in assassinations, coups, and kidnappings. Hellerstein has provided judicial cover for these continued activities by ruling that intelligence sources and methods are more important that U.S. law or prior presidential orders.
...
http://www.aclu.org/national-security/judge-rules-cia-can-suppress-information-about-torture-tapes-and-memos
Judge Rules CIA Can Suppress Information About Torture Tapes and Memos
July 15, 2010
Ruling Allows CIA To Conceal Evidence Of Its Own Illegal Conduct, Says ACLU
FOR IMMEDIATE RELEASE CONTACT: (212) 549-2689 or 2666; media@aclu.org
NEW YORK – A federal judge today ruled that the government can withhold information from the public about intelligence sources and methods, even if those sources and methods were illegal. The ruling came in response to Freedom of Information Act (FOIA) litigation filed by the American Civil Liberties Union for Justice Department memos that authorized torture, and for records relating to the contents of destroyed videotapes depicting the brutal interrogation of detainees at CIA black sites.
The government continues to withhold key information, such as the names of detainees who were subjected to the abusive interrogation methods as well as information about the application of the interrogation techniques. Judge Alvin K. Hellerstein of the U.S. District Court for the Southern District of New York today ruled that the government can continue to suppress evidence of its illegal program.
The following can be attributed to Jameel Jaffer, Deputy Legal Director of the ACLU:
"We are very dismayed by today's ruling, which invests the CIA with sweeping authority to conceal evidence of its own illegal conduct. There is no question that the CIA has authority under the law to withhold information relating to 'intelligence sources and methods.' But while this authority is broad, it is not unlimited, and it certainly should not be converted into a license to suppress evidence of criminal activity. Unfortunately, that is precisely what today's ruling threatens to do. The CIA should not be permitted to unilaterally determine whether evidence of its own criminal conduct can be hidden from the public."
Judge Hellerstein's ruling is available online at:
www.aclu.org/national-security/aclu-v-dod-district-court-order-allowing-suppression-information-about-intelligenc
More information about the ACLU's FOIA litigation is available online at: www.aclu.org/accountability/
---------------------------------------------------------------------------------------------------------------
http://www.guardian.co.uk/law/2010/jul/14/torture-classified-documents-disclosed
Classified documents reveal UK's role in abuse of its own citizens
Previously secret papers show true extent of involvement in abduction and torture following al-Qaida attacks of 2001
Read the torture documents in full
Ian Cobain
and
Owen Bowcott
14 July 2010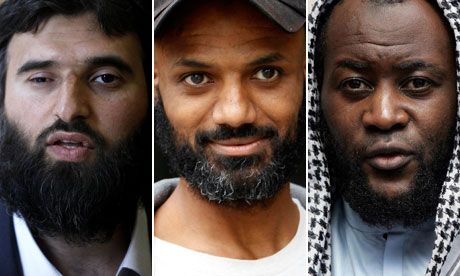 The true extent of the Labour government's involvement in the illegal abduction and torture of its own citizens after the al-Qaida attacks of September 2001 has been spelled out in stark detail with the disclosure during high court proceedings of a mass of highly classified documents.
Previously secret papers that have been disclosed include a number implicating Tony Blair's office in many of the events that are to be the subject of the judicial inquiry that David Cameron announced last week.
Among the most damning documents are a series of interrogation reports from MI5 officers that betray their disregard for the suffering of a British resident whom they were questioning at a US airbase in Afghanistan. The documents also show that the officers were content to see the mistreatment continue.
One of the most startling documents is chapter 32 of MI6's general procedural manual, entitled "Detainees and Detention Operations", which advises officers that among the "particular sensitivities" they need to consider before becoming directly involved in an operation to detain a terrorism suspect is the question of whether "detention, rather than killing, is the objective of the operation".
Other disclosed documents show how:
• The Foreign Office decided in January 2002 that the transfer of British citizens from Afghanistan to Guantánamo was its "preferred option".
• Jack Straw asked for that rendition to be delayed until MI5 had been able to interrogate those citizens.
• Downing Street was said to have overruled FO attempts to provide a British citizen detained in Zambia with consular support in an attempt to prevent his return to the UK, with the result that he too was "rendered" to Guantánamo.
The papers have been disclosed as a result of civil proceedings brought by six former Guantánamo inmates against MI5 and MI6, the Home Office, the Foreign Office, and the Attorney General's Office, which they allege were complicit in their illegal detention and torture.
The government has been responding to disclosure requests by maintaining that it has identified up to 500,000 documents that may be relevant, and says it has deployed 60 lawyers to scrutinise them, a process that it suggests could take until the end of the decade. It has failed to hand over many of the documents that the men's lawyers have asked for, and on Friday failed to meet a deadline imposed by the high court for the disclosure of the secret interrogation policy that governed MI5 and MI6 officers between 2004 and earlier this year.
So far just 900 papers have been disclosed, and these have included batches of press cuttings and copies of government reports that were published several years ago. However, a number of highly revealing documents are among the released papers, as well as fragments of heavily censored emails, memos and policy documents.
Some are difficult to decipher, but together they paint a picture of a government that was determined not only to stand shoulder to shoulder with the United States as it embarked upon its programme of "extraordinary rendition" and torture of terrorism suspects in the immediate aftermath of 9/11, but to actively participate in that programme.
In May, after the appeal court dismissed attempts to suppress evidence of complicity in their mistreatment, the government indicated that it would attempt to settle out of court.
Today the government failed in an attempt to bring a temporary halt to the proceedings that have resulted in the disclosure of the documents. Its lawyers argued that the case should be delayed while attempts were made to mediate with the six men, in the hope that their claims could be withdrawn in advance of the judicial inquiry. Lawyers for the former Guantánamo inmates said it was far from certain that mediation would succeed, and insisted the disclosure process continue.
In rejecting the government's application, the court said it had considered the need for its lawyers to press ahead with the task of processing the 500,000 documents in any event, as the cases of the six men are among those that will be considered by the inquiry headed by Sir Peter Gibson. Last week, in announcing the inquiry, Cameron told MPs: "This inquiry will be able to look at all the information relevant to its work, including secret information. It will have access to all relevant government papers – including those held by the intelligence services."
Cameron also made clear that the sort of material that has so far been made public with the limited disclosure in the Guantánamo cases would be kept firmly under wraps during the inquiry. "Let's be frank, it is not possible to have a full public inquiry into something that is meant to be secret," he said. "So any intelligence material provided to the inquiry panel will not be made public and nor will intelligence officers be asked to give evidence in public."
The coalition government is anxious to draw a line under what is currently described in Whitehall as "detainee legacy issues". It hopes that mediation, followed by the inquiry, will lift the burden of litigation that it is currently facing while restoring public confidence in MI5 and MI6.
It also wishes to preserve what it calls "liaison relationships" – operational links with overseas intelligence agencies, including those known to use torture – on the grounds that they are a vital part of the country's counterterrorism strategy.
The torture files: key passages
---------------------------------------------------------------------------------------------------------------
http://gizmodo.com/5578183/usb-coffee+cup-warmer-could-be-stealing-your-data
USB Coffee-Cup Warmer Could Be Stealing Your Data
Are you sure that the keyboard or mouse you are using today is the one that was attached to your computer yesterday? It might have been swapped for a compromised device that could transmit data to a snooper.
The problem stems from a shortcoming in the way the Universal Serial Bus (USB) works. This allows almost all USB-connected devices, such as mice and printers, to be turned into tools for data theft, says a team that has exploited the flaw.
Welcome to the murky world of the "hardware trojan". Until now, hardware trojans were considered to be modified circuits. For example, if hackers manage to get hold of a microchip when it is still in the factory, they could introduce subtle changes allowing them to crash the device that the chip gets built into (New Scientist, 1 July 2009, p 18).
Computer engineers John Clark, Sylvain Leblanc and Scott Knight at the Royal Military College of Canada in Kingston, Ontario, wondered if a hardware trojan attack could be carried out by other means. They calculated that the easiest way to introduce a hardware trojan might be via a computer's USB ports.
The trio found they could exploit a weakness in USB's plug-and-play functionality. The USB protocol trusts any device being plugged in to report its identity correctly. But find out the make and model of a target user's keyboard, say, swap it with a compromised device that reports the same information - and that doesn't even have to be a keyboard - and the computer won't realise.
The team designed a USB keyboard containing a circuit that successfully stole data from the hard drive and transmitted it in two ways: by flashing an LED, Morse-code style, and by encoding data as a subtle warbling output from the sound card (Future Generation Computer Systems, DOI: 10.1016/j.future.2010.04.008). They could have chosen more efficient methods to transmit the data, such as email, but Leblanc says their main goal was to see if they could steal data without anyone noticing.
"We've shown any USB device could contain a hardware trojan," he says. Security software, if it checks USB devices at all, tends to look only for malware on USB memory sticks.
"This work opens many cans of worms," says Vasilios Katos, a computer scientist at the Democritus University of Thrace in Greece. "A USB device cannot now be trusted - it may have hidden processing capabilities."
He's right, says Leblanc. "You could mount a hardware trojan attack with a USB coffee-cup warmer.
The author of this post can be contacted at tips@gizmodo.com