.
http://www.independent.co.uk/news/world/europe/guilty-after-sixyear-trial-portugals-highsociety-paedophile-ring-2070112.html
Guilty after six-year trial, Portugal's high-society paedophile ring
Politicians among abusers who preyed on state-run orphanages
Jerome Taylor
4 September 2010
To most people Portugal's state-run orphanages seemed like a safe haven for thousands of children who had been robbed of their parents. They were called the Casa Pia, or Houses of the Pious.
But for an elite paedophile ring, which included a former ambassador and a prominent television celebrity, Casa Pia orphanages were something entirely different. They were supermarkets stocked with children to abuse. Yesterday, at the conclusion of the longest trial in Portugal's history, seven defendants were convicted of using the orphanages to rape and abuse scores of teenage boys in a case that has sent shockwaves through the country's political elite and raised serious concerns over the efficiency of Portugal's judiciary. Six of the seven were given jail terms of between five and 18 years.
The trial, in Lisbon's top criminal court, is thought to be the largest ever undertaken by Portugal's court system. Over five and half years, more than 800 witnesses, including 32 alleged victims, gave evidence detailing how a paedophile ring used the orphanages to source children for wealthy and influential clients. The sentencing document alone, of which judges spent most of yesterday reading a summary, runs to 2,000 pages.
Two of those found guilty included Carlos Cruz, a popular television chat-show host with 30 years in show business, and Jorge Ritto, a former ambassador once sent home in disgrace from a posting in Germany over allegations that he had been having an improper relationship with a young boy in a park.
Their co-defendants included Carlos Silvino, an orphanage driver who would ferry children to paedophile houses; Joao Ferreira Diniz, a prominent doctor who often deliberately picked out deaf and dumb children; Manuel Abrantes, a former deputy principal at an orphanage; solicitor Hugo Marcal and Gertrude Nunes, the only female defendant who allowed her house to be used by the paedophile ring. The successful convictions, eight years after the paedophile scandal was exposed, is a major victory for Portuguese police, under intense criticism over their handling of the investigation into the disappearance of Madeleine McCann. One of the lead detectives in the Casa Pia case, Paulo Rebelo, also investigated the Madeleine McCann disappearance after the original lead investigator was sacked. Rebelo and his team of forensic investigators – called "the cleaners" because they leave no stones unturned – are said to have played a pivotal role in securing the convictions.
But the trial was dogged by accusations that witnesses had been intimidated, and allegations that senior politicians turned a blind eye to the abuse to protect friends. Reports that paedophiles were using Casa Pia orphanages to source victims surfaced in the early 1980s but they were swept under the carpet. Teresa Costa Macedo, a senior government official, said she informed the country's then president, General Ramalho Eanes, and provided photographic evidence. But the photographs were "lost" by police and Mrs Macedo said she was also intimidated by phone calls from anonymous callers. "They said they would kill me, flay me and a lot of other things," she recalled.
The current trial began in 2004 after a lengthy investigation started by nine boys who had been at one of the homes in Lisbon accused several people of sexual abuse between 1998 and 2001. Their decision to come forward prompted hundreds more witnesses to speak out and has lead to a tripling in the number of child-abuse investigations across Portugal.
Victims have told investigators that abuse at Casa Pia orphanages – of which there about 10 around the country – occurred as far back as the 1970s but most witness testimonies used for the trial came from victims who were abused during the 1990s. Prosecutors still believe there are more victims out there too scared to talk.
The prosecution's case centred around Silvino, known to the paedophile ring as "Bibi". The 53-year-old confessed to 639 charges relating to the abuse of children or procuring them for others, and testified against the other defendants. He admitted he had used the orphanages to collect victims and delivered them to co-defendants such as Cruz who, Silvino claimed, paid cash.
Cruz has denied the accusations and claimed in press interviews during the trial that he was the victim of prejudice from one of the three judges trying the case. Yesterday the 68-year-old dismissed the verdict built on "lies and manipulation", adding: "This is one of the most monstrous judicial mistakes in Portuguese history."
He and the other defendents are expected to appeal. It is not clear whether the defendants would be jailed with an appeal pending.
Alvaro Carvalho, a psychiatrist who has counselled the victims and was in court with some them yesterday, said they were nervous as they awaited the verdict. "They calmed down when the judge ruled that the crimes were proven," Mr Carvalho told reporters. "In a way, it's society making reparation for what happened to them."
Pedro Namora, a former resident of a Casa Pia orphanage who says he was abused, became a lawyer and played a pivotal role in the prosecution. "These men have to be condemned," he said. "They committed barbarous crimes against humanity."

The scandal that went right to the top
João Ferreira Diniz
A wealthy doctor, Diniz was arrested in January 2003 near his office in Belem, Lisbon. He insisted on his innocence throughout the trial. He has been sentenced to seven years in jail after being found guilty of abusing two children. His accusers claimed they had been abused by him at a house in Elvas, owned by co-defendant Gertrude Nunes.
Jorge Ritto
One of the most high-profile figures to be caught up in Portugal's largest paedophile ring, Ritto was once a career diplomat with a glittering career. He retired in 2002 after serving as Portugal's ambassador to Unesco. During the trial it emerged that he was sent home from a posting in Stuttgart in the early 1980s after allegations surfaced that he had been caught in an "improper relationship" with a boy in a park. He denied all charges in the Casa Pia trial. He was jailed for six years.
Carlos Cruz
Once voted "Portugal's most popular man", Carlos Cruz has spent three decades as one of the country's most recognisable television personalities. The 68-year-old fronted a number of successful shows during his career in the media and famously married a wife who is three decades his junior. He was arrested in 2003. He has repeatedly alleged that his arrest was the result of "a vendetta". Cruz is now facing a seven-year jail sentence.
The trial in numbers
800 witnesses and experts gave evidence in the case.
4,500 people were cared for at Casa Pia homes for children in need.
639 crimes were confessed to by ex-Casa Pia driver Carlos Silvino.
2,000 pages: the length of the sentencing document.
32 victims were identified during the near six-year trial.
http://www.guardian.co.uk/world/2010/sep/10/sinead-oconnor-pope-visit
Sinead O'Connor: 'The Vatican is a nest of devils'
When she tore up the pope's picture as a protest against child abuse, people thought she was loopy. But Sinead O'Connor – former pop star, priest, newly married mother of four – won't say 'I told you so'
Simon Hattenstone
Saturday 11 September 2010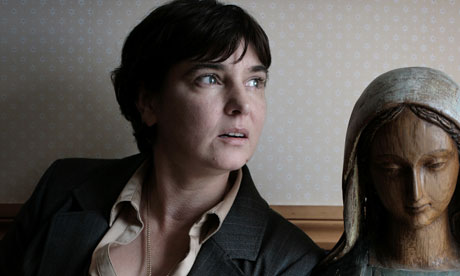 You can't mistake Sinead O'Connor's house. Outside the porch is an empty plant pot full of cigarette butts, inside are two large statues of the virgin Mary. As the door opens, I crash into another Virgin Mary. O'Connor's housekeeper, who doubles up as her best friend, opens the door and leads me into a lounge where family photos, rocking chairs and kids' paintings jostle for pole position with more Virgin Marys. A huge beautiful bay window overlooks the sea at Bray, just outside Dublin.
When O'Connor arrives, I barely recognise her. Her hair is a black bob, her face rounded, she is wearing a three-piece suit and has the air of a mid-20th century industrialist. A big brass cross hangs down her front. "That's my ordination cross. Normally I tuck it into my bra," which she does as she speaks. She suggests we retire to the shed-cum-office in the garden. So we stroll past the hanging linen, a few guitar cases, two Yorkshire terrier puppies, the cat, and she chats away confidently, and we reach the wooden hut and shut the door on the world. Then everything changes. She sits down, just about manages to light a fag with a shaking hand and morphs into the terrified (and terrifying) wisp of a girl from yesteryear.
In 1992 she tore up a picture of Pope John Paul II on the American TV show Saturday Night live. She said it was a protest at child sex abuse in the Catholic church, and many people thought she was loopy. What abuse? Two weeks later she was booed off the stage at a Bob Dylan tribute concert, her records were publicly smashed, and that was pretty much that as a pop star.
Eighteen years on, she has been vindicated. In March, Pope Benedict XVI issued an apology to the victims of decades of sex abuse by Catholic priests in Ireland, expressing his "shame and remorse" for the "sinful and criminal acts". But O'Connor is still boiling – she regards the Vatican's admission as more cover-up than confession.
O'Connor's career is astonishing – for its brevity and longevity. It can be boiled down to the one song – a gorgeous interpretation of Prince's Nothing Compares 2 U. She looked like a skinhead angel, and sang with despairing intensity. The accompanying video was equally memorable – the close-up of that luminous face, her haunted beauty, a single tear sliding down each cheek. Nothing Compares 2 U seems to be a conventional song about lost love, but it could just as easily be about God and faith. It went to No 1 all over the world in 1990. After that there were all sorts of records – Irish folk songs, reggae fusions, self-penned compositions, but nothing much to trouble the charts. And yet she is still a source of fascination – whether for her fiery pronouncements on the church, or her unconventional approach to raising a family (four children, four different fathers), her sexuality (in 2000, she outed herself as a lesbian, then changed her mind) or her faith (in 1999, she became a priest, Mother Bernadette, having been ordained at Lourdes by the breakaway Latin Tridentine church).
Today, ahead of the start of the pope's visit to Britain on Thursday, she wants to speak about the Catholic church – not to crow, not to say I told you so, but to look forward in the way only O'Connor can. She stares into the tape recorder diffidently. "I speak very quietly," she says. She doesn't seem ready for Jesus and the pope just yet. So we talk about her new husband Steve Cooney, whom she married this summer ("Third time lucky eh?"), how he produced the first record she made, and how he was a best friend for years. And she tells me how for two years after the 2006 birth of her fourth child Yeshua, she was such a slob that all she wore was a navy T-shirt and trackpants 'til her daughter Roisin, now 14, burnt her clothes in disgust and ordered her to go shopping. "So I thought fuck it, and I love suits, and they haven't been in the fuckin' shops for years, so I got these at Next, and they're fuckin' brilliant 'cos it's like 40 quid for a jacket and 35 for a pair of trousers and you can wash them in the machine, which is fuckin' crazy, so I can wear them round the house and if the kids fuck me up it's grand."
Do any priests swear as much as she does? "Absolutely not. But that's a Dublin thing. Everybody swears. We put fuck between syllables." Part of the image revamp was growing her hair. "I grew too old and fat and ugly to get away with the bald head." She's stopped shaking.
I ask her about the Marys. She says she's always collected them. Her mother and grandmother used to buy them for her birthday. Does she think it's strange that she still has such faith? "I think there's a difference between God and religion."
As she talks I notice an inky tattoo on her elbow. "Ah, that's a conquering lion, the Rasta name for God." She rolls up her sleeve to reveal an arm that is now a series of tattooed quotes. "This is one of the names of Allah, I just got it done a week or so ago and it was incredibly painful." We work our way up her arm. "That's a quote from Muhammad Ali, who I worship – 'No Vietcong ever called me nigger'."
And this is from Psalm 91, 'So that you will not strike your foot against a stone.' "
I had always assumed that O'Connor was ordained to stick two fingers up at the Catholic hierarchy. No, she says, not at all. "I didn't do it to cause offence. It was just something private between me and the Holy Spirit." Does she practise as a priest? "I have to be very careful. I guess the way I do it is through music because people sometimes want me to do sacraments but not for the right reasons – they want me to do it because it's Sinead O'Connor."
But she says, apart from her children, her ordination is her greatest achievement. "I am proud that I did listen to that voice inside me rather than be intimidated by men telling me you can't be a priest. One ought to be more concerned in obeying what the Holy Spirit inspires you to feel rather than what a bunch of men in fucking dresses are telling you to do or not do."
I'm still trying to work out her position – she loves God, but despises Catholicism? She shakes her head. "No, what I think is wrong is that the people running the show are misrepresenting what Catholicism actually is ... what I'm talking about is the highest echelons of the Vatican't as I call it."
The Vatican't? She grins. "Yes, as in they can't admit anything, they can't stand up for anything." Where to start? Women priests, homosexuals, contraception and, of course, child sex abuse. "You can go back centuries, but the way they've behaved just in the last 20 years, over this issue of sexual abuse, shows they don't give a shit. They feel untouchable. And to me it seems they don't believe in God at all. Because if you did believe you couldn't stand in front of that spirit covering up and moving priests and doctoring reports to psychiatrists and not telling them there was a suspicion of abuse, you just couldn't do that."
She quotes any number of documents and papal decrees verbatim at me, hands me copies, insisting I doublecheck everything she says. You could imagine her in court, prosecuting the Vatican. She gives me a potted history of clerical child sex abuse – how it can be traced back to AD 320, how the first official complaint was made in 1917, the first edict was issued from the Vatican in 1922 stating that any complaints of abuse had to be silenced under pain of excommunication, how the first centre for paedophile priests was opened in 1940, how the original edict was reissued in 1962. "So they knew about it all right.
What shocks her as much as the abuse is the manner in which the Vatican claimed ignorance and suggested it is also a victim. In April, the pope's personal preacher Raniero Cantalamessa compared the attack on the Catholic church with the Nazi persecution of the Jews. "That is incendiary," she says. "Quite evil, a fucking disgrace." She is talking calmly, and stops occasionally to sip from a mug, which says: "I feel a sin coming on."
She passes me the 2009 Murphy report into the Catholic Archdiocese of Dublin, which concludes: "The commission has no doubt that clerical child sex abuse was covered up by the archdiocese of Dublin and other church authorities ... The structures and rules of the Catholic church facilitated that cover-up."
So what is the way forward? "OK, the abusive priests have been dealt with and that's very important, but now what has to be dealt with is the criminality of the cover-up." She says it has to go to the very top – after all in 2001, Pope Benedict, as Cardinal Ratzinger, issued an updated edict instructing the world's bishops to silence all abuse allegations or risk being thrown out of the church. "The Vatican is a nest of devils and a haven for criminals. It's evil, the very top of the toppermost is evil."
O'Connor is clear what has to happen – those responsible have to go. "And when all the those guys stand down we should take back the church for us." Would she like to see a democratically elected pope? "Do we need a fucking pope? Why do we need a pope? Christ doesn't need a representative. Ten years from now the church will be nothing resembling what it has been."
O'Connor's anger has always been personal. As a child, she was abused by her mother – her father was only the second man in Ireland to be granted custody of his children. O'Connor, 43, says her mother's behaviour was fashioned by a church that normalised abuse. "People under 40 don't understand what Ireland was like. It was a theocracy, like Iran, slightly less potent but the same situation. The photo of the pope I ripped up was one that had been on my mother's bedroom wall for 25 years. I took it when she died. She learned at school that violence was the way to sort her problems out. These kids were having the shit kicked out of them, and they grew up with the message that this was the way you get people to behave."
Was her mother's violence physical? "Yes, but it was also very sexual. It wasn't like she was having sex with me, but it was sexually abusive violence from when I was very small. It was horrific. I loved my mother but I was terrified of her. I literally pissed my pants if she came near me, but even when she was doing what she did to me I could see this was a soul in torment." She lights a cigarette. "I once won a prize at school for curling up into the smallest ball and the reason I could do that was because I was so used to having the shit kicked out of me." Ultimately, she says, it was the theocracy that led to her beatings that also helped her survive them. "Thank fuck I had a sense of Jesus. When I was lying on the floor having the shit kicked out of me, I'd envision Jesus on the top of some hill on the cross, and the blood would run from Jesus's heart down into mine on the floor and that's how I got through being beaten. I'd concentrate on that image."
O'Connor says she is so much calmer than she was in her 20s. A turning point came seven years ago when she was diagnosed as bipolar. "It explained a lot about being angry, fighting with people, being suicidal. And often with anger what's behind it is grief. Did you ever see this creepy cowboy movie, and at the end the guy was shot from behind and a huge hole is blown through his back – that's how I used to feel. I felt like I was walking round the world with a huge fucking hole in me. And within a day of taking the medication, I felt the cement had come and filled in the hole."
Will she always have to be on drugs? "Yes, but that is great as far as I'm concerned. Because you couldn't really live without them, you'd be in the nuthouse. Being diagnosed meant I actually had a chance of being a normal person."
The two youngest children arrive back home, jump into her arms, and tell her what they've been doing. "Someone described me as mumsy," she says, "and I love that because to me the most important thing in my whole life has been being a mum."
She's relaxed now, talking about the future. She's recording an album of her own songs but doesn't want to say much about it . "I hate talking about my career when I'm doing church stuff because it's as if I'm using the church to further my career, you know what I mean?"
Did she ever enjoy her success? "I was such an unhappy person I couldn't. The day I ripped up the picture of the pope was the best day of my life because then I became me. I could become the kind of artist I wanted to be. And now 99% of my life is rolling around the house and looking after the kids. I wouldn't go back to it for a million years."
She takes me round the house, showing favourite photos of her children. Do you think the new calm you is permanent, I ask. "People always say to me do you think your happiness is going to last, as if I'm teetering on some edge." She smiles. "Bollocks."
http://www.guardian.co.uk/world/2010/sep/10/belgium-child-abuse-catholic-church
Belgian child abuse report exposes Catholic clergy
Paedophilia expert unveils harrowing testimony and documents cases in almost every diocese
Ian Traynor in Brussels
Friday 10 September 2010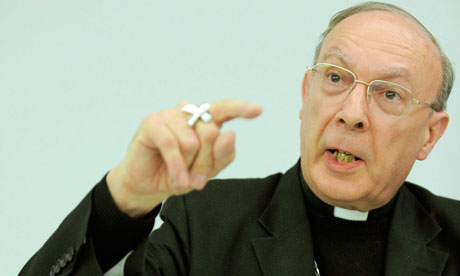 Some of the most damning evidence of systematic child abuse by the Roman Catholic clergy to come to light was unveiled today by Belgium's leading authority on paedophilia, who published hundreds of pages of harrowing victim testimony detailing their traumas and suffering.
The explosive report by Peter Adriaenssens in the town of Louvain, east of Brussels, lists evidence of 476 instances of child abuse by priests and bishops going back 50 years.
Adriaenssens was appointed by the church last year to head an independent inquiry into the scandal. Since April, when Roger Vangheluwe, the bishop of Bruges, resigned after admitting persistently molesting a nephew, the Adriaenssens commission has been inundated with evidence, with hundreds of victims coming forward.
He has since documented cases of abuse occurring in almost every diocese in the country and in virtually every school run by the church. "We can say that no part of the country escapes sexual abuse of minors by one or several [church] members," said Adriaenssens.
"This is the church's Dutroux dossier," he added in reference to the notorious Belgian paedophile serial killer, Marc Dutroux, who kidnapped, tortured, abused and murdered six girls in 1995-6.
Speaking of the victims, Adriaenssens said that 13 had killed themselves, according to relatives, and another six had attempted suicide.
The 200-page report includes copious anonymous testimony from 124 of the victims "to honour their courage" in coming forward.
"There are days when I thank God for having the chance to speak," testified one woman.
"Four years of psychotherapy have taught me that silence kills. I have had enormous depressions, going as far as attempted suicide. At other times I think it would be wise to let sleeping dogs lie. But in the end I've chosen to speak ... Since the resignation of the bishop of Bruges, I am living again in anxiety and fear. And I am far away. I've chosen to live far from my country, hoping that the past won't rejoin me."
This testimony was from a woman abused in the 1980s, but most of the cases concerned young boys and teenagers, as well a documented case of a two-year-old boy being molested.
Another victim told of being repeatedly sexually molested by his parish priest for five years from the age of seven.
"From being a violated child, I myself became, several years later, an abuser of adolescents and was sentenced to eight years in jail of which I served four and a half … The priest's violations certainly strongly shaped my sexual identity and influenced my life choices."
The evidence presented, said the daily newspaper Le Soir, was of "immense persistent suffering which neither the church, justice, nor society have been able to assuage … Adriaenssens has done what everyone else declined to do – listen to the victims, understand them, and give them the place they deserve."
The abuse went back to the 1950s, was most common in the 60s and was tailing off by the 1980s, Adriaenssens said.
"The exposed cases are old, of course," he said. "Society has developed. But there's nothing to indicate that the number of paedophiles has diminished. Where are they today?"
Most of the victims were now middle-aged, but remained traumatised. Around half of the abusers had died.
The expert unveiled his report today because yesterday a Belgian court ruled that the material, seized by police in a highly controversial raid in June, was inadmissible in court because of the "disproportionate" police action and ordered it returned.
Pope Benedict criticised the Belgian authorities for "deplorable" conduct when in June they seized the commission's files, raided the headquarters of the Belgian Catholic church, held cardinals and bishops for several hours, took their mobile phones, and carried away computers and documents.
They questioned Cardinal Godfried Danneels, who retired as head of the Belgian church and archbishop of Brussels in January.
Two weeks ago Belgian newspapers published tape recordings of Danneels seeking to hush up the case of Vangheluwe, the Bruges bishop.
Vangheluwe's nephew secretly recorded Danneels pressing him to keep quiet about his uncle at least until he retired next year.
"I don't think you'd do yourself or him a favour by shouting this from the rooftops," the cardinal warned the victim, who replied angrily that his uncle had abused him for 13 years from the age of five.
The recordings were made in April and the bishop resigned two weeks later, the most senior clergyman in the Catholic church to have quit after being exposed for child abuse.
http://news.yahoo.com/s/yblog_upshot/20100903/us_yblog_upshot/pentagon-declined-to-investigate-hundreds-of-purchases-of-child-pornography
Pentagon declined to investigate hundreds of purchases of child pornography
John Cook
Fri Sep 3,
A 2006 Immigration and Customs Enforcement investigation into the purchase of child pornography online turned up more than 250 civilian and military employees of the Defense Department -- including some with the highest available security clearance -- who used credit cards or PayPal to purchase images of children in sexual situations. But the Pentagon investigated only a handful of the cases, Defense Department records show.
The cases turned up during a 2006 ICE inquiry, called Project Flicker, which targeted overseas processing of child-porn payments. As part of the probe, ICE investigators gained access to the names and credit card information of more than 5,000 Americans who had subscribed to websites offering images of child pornography. Many of those individuals provided military email addresses or physical addresses with Army or fleet ZIP codes when they purchased the subscriptions.
In a related inquiry, the Pentagon's Defense Criminal Investigative Service (DCIS) cross-checked the ICE list against military databases to come up with a list of Defense employees and contractors who appeared to be guilty of purchasing child pornography. The names included staffers for the secretary of defense, contractors for the ultra-secretive National Security Agency, and a program manager at the Defense Advanced Research Projects Agency. But the DCIS opened investigations into only 20 percent of the individuals identified, and succeeded in prosecuting just a handful.
The Boston Globe first reported the Pentagon's role in Project Flicker in July, citing DCIS investigative reports (PDF) showing that at least 30 Defense Department employees were investigated.
But new Project Flicker investigative reports obtained by The Upshot through the Freedom of Information Act, which you can read here, show that DCIS investigators identified 264 Defense employees or contractors who had purchased child pornography online. Astonishingly, nine of those had "Top Secret Sensitive Compartmentalized Information" security clearances, meaning they had access to the nation's most sensitive secrets. All told, 76 of the individuals had Secret or higher clearances. But DCIS investigated only 52 of the suspects, and just 10 were ever charged with viewing or purchasing child pornography. Without greater public disclosure of how these cases wound down, it's impossible to know how or whether any of the names listed in the Project Flicker papers came in for additional scrutiny. It's conceivable that some of them were picked up by local law enforcement, but it seems likely that most of the people flagged by the investigation did not have their military careers disrupted in the context of the DCIS inquiry.
Among those charged were Gary Douglass Grant, a captain in the Army Reserves and a judge advocate general, or military prosecutor. After investigators executing a search warrant found child pornography on his computer, he pleaded guilty last year to state charges of possession of obscene matter of a minor in a sexual act in California. Others included contractors for the NSA with Top Secret clearances; one of them -- a former contractor -- fled the country after being indicted and is believed to be in Libya.
But the vast majority of those investigated, including an active-duty lieutenant colonel in the Army and an official in the office of the secretary of defense, were never charged. On top of that, 212 people on ICE's list were never investigated at all.
According to the records, DCIS prioritized the investigations by focusing on people who had security clearances -- since those who have a taste for child pornography can be vulnerable to blackmail and espionage. The documents show that the probe then concentrated on people who had been previously suspected of or convicted of sex crimes, or had access to children as part of their Defense Department duties. But at least some of the people on the Project Flicker list with security clearances were never pursued and could possibly remain on the job: DCIS only investigated 52 people, and 76 of those on the Project Flicker list had clearances.
A DCIS spokesman didn't return phone calls. But the agency's own documents obtained via The Upshot's FOIA request indicate that the decision to press investigations forward hinged largely on questions of the resources available to the investigators. "Due to DCIS headquarters' direction and other DCIS investigative priorities, this investigation is cancelled" is a common summation in the files.
A source familiar with the Project Flicker investigations -- who requested anonymity because public disclosure could jeopardize this person's job -- confirmed that departmental resources, and priorities, were decisive factors in letting inquiries lapse.
DCIS is primarily tasked with rooting out contractor fraud and investigating security breaches; its 400 staffers were already plenty busy before Project Flicker dropped 264 more names onto their caseloads. And child pornography investigations are difficult to prosecute. Many judges wouldn't issue search warrants based on years-old evidence saying the targets subscribed to a kiddie porn website once.
"We were stuck in a situation where we had some great information, but didn't have the resources to run with it," the source told The Upshot. Many of the investigative reports obtained by The Upshot end with a similar citation of scarce resources:
Of course, other federal agencies, including ICE and the FBI, may have prosecuted some of the Project Flicker names the DCIS ignored. But that's unlikely, given that some of the DCIS investigations were closed due to lack of cooperation from ICE.
In one case, involving an Army Reserve corporal in the Pittsburgh area, a DCIS agent expressed exasperation after repeatedly trying to get ICE to collaborate with him on the investigation: "Based upon the complete non-responsiveness of ICE ... it is recommended that [the] matter be closed."
As for the 212 Project Flicker names that DCIS didn't investigate, the source familiar with the investigation said there was no systematic effort to inform their superiors or commanding officers of their suspected purchases of child pornography.

http://www.seancopland.com/articles/ciacarbomb.html
Sex Offenders Register
06/Sep/2010
I managed to get hold of a list of convicted sex offenders on the internet, so I decided to write a little search script, so you can see which ones live near you. Check it out using the box above.
They're just the ones who get arrested and convicted (based on media reports). In a country where no more than 5% of reported rapes end in conviction, there's plenty more that, with the right power and influence, are sure to remain at liberty all the while we're forced to live under a regime as fundamentally corrupt as ours.
I'm going to try and get some more soon, so check back often. In the meantime, here's a juicy selection of serious allegations that for one reason or another failed to result in convictions. All the same, I've managed to dig them out on the internet, and provide them 'as is' for your gossiping pleasure...
Hopefully, you'll be as excited as I was to see Tony Blair popping up as a gay sex offender!
Lord Graville Jenner (Labour Peer)
Jenner was accused of raping a 15 year old boy at the holiday in in Glasgow, the night before the boy was due to give evidence, the judge was taken out to dinner by the defense team for Jenner, and it was arranged that the boy was not allowed to Jenner in court as his rapist, or he would be in contempt of court. Jenner won his case and he walked in to the house of commons to a standing ovation by MP's. I stand by what i have said for many years, the house of commons and Lords are filled with perverts and rapists, and the police and the courts will defend them all the way, as they are all in the same private club.

Lord Kaufman (Labour Peer)
He is well known to police in London for sexually abusing young boys, he likes them under 12 when he can get them.

Lord Britton (Leon, former home sec when Maggie was in power)


He is very well known for raping young boys. The police raided his house when a young boy staggered in to the street half naked, and when police asked what happened he told them about Britton and his friends and took them to the house. When they called in to report what happened , they were ordered to take everyone in, and when they got there there were 2 officers from the security service waiting. The boys were paid off, and a short time later, Leon Britton was summoned to meet his fellow MP, William Hague on the beach in Brighton at 5.45 in the morning, where he was told that he was to be made commissioner for the UK, and he would not be allowed to be in politics again in the UK. That was how he became commissioner and he stayed there for many years, until the corruption inquiry went ahead, which saw a large number of people from different countries being made to resign.



Gordon Brown (former PM of the UK)
Brown is known for sexually abusing numerous boys, as well as girls.

He is known for a particularly vile rape in Aberdeen in the 70's, when he and 2 others paid a prostitute for access to her 9 year old daughter. They all raped her several times, and some years later the girl went to court to get custody of her little brother because of her mother's abuse, and drug use. She won the case and has had custody of him ever since. The records have vanished from court, but the victim still remembers what happened, and who did it.



Anthony Charles Lynton Blair (Tony Blair,former PM of the UK)
He was charged and appeared in court at Bow Street magistrates court for importunity in a public toilet with another male. He tried to get sexual favour from the other man, little did he know that the toilet was being watched by police. Blair was fined £500, and walked away with nobody knowing who he really was as he used his middle names to cover who he was. Charles Lynton is the name used, and his friends in court got him off with a fine, because he is one of them.

Edward Heath (former PM of the UK)
He is very well known for his perverted abuse of young boys. I spoke to one of his victims and he told me about others who were present, and more important, who was supplying the children to him. The person bringing children for him to abuse is Sir Jimmy Saville. He was seen by the witness, victim, taking young boys onboard Heaths yacht the morning cloud when they were at party conference. Saville is known for supplying a number of high profile MP's with children for them to sexually abuse.

Lord Robertson (Former head of NATO)
He is very well known to police in the UK.

He was removed by the US government because they found out about his perverted taste for boys. They were going to expose him if he did not resign, so we got the"I'm resigning for family reasons bull shit)Robertson is a dangerous predatory paedophile, but as bad as the one i am about to name next.



Lord Hardie
The former Lord Advocate for Scotland, is a known paedophile, who some years ago had his BMW stolen by 2 victims, when they were caught, Hardie told the police to let them go, and he did not bring charges against them. Why would a judge not charge them with theft, unless they had information which would destroy him.

Lord McAlpine (Former treasurer of the conservative party)
He is known to the police in the UK and abroad, for sexually abusing young boys, including using a coffin to put the boy in, then they simulate burying him by sprinkling gravel on the top of the coffin, the child is screaming with terror and will do whatever he is told due to being so scared of being put in the coffin again. This person is alleged to have murdered at least 2 boys and buried their bodies on his estate. I got this information from a police officer who was involved in investigating McAlpine, and he is certain that he has committed murder several times, but he is to well protected to get him.

Micheal Portilo (former MP Kensington & Chelsea
Portilo is well known within the conservative party, as are others for his perverse abuse of children. He also likes adults now and again, particularly his friend and fellow MP Peter Lilley. He was giving portilo a good time in the DTI building on the day of the 92 election, he was on his knees, (I'm sure i don't have to paint a picture for you). He also like Morocco Del sol, where he delights in having young boys for sexual abuse. He used to go to the same hotel and on one visit, he left top secret documents behind in connection with the UK's defense systems, was it an accident, or was he being blackmailed? He also goes to the Isle of White regularly with Lilley and other friends where they have access to children. He is disgusting and i want him in prison where he belongs.


More shocking stuff coming through...
Derek Laud

Now defunct magazine Scallywag covered events at Bryn Alyn in detail, some years ago.

The magazine alleged that one of the men referred to is Lord McAlpine, at the time of the offences treasurer of the governing Conservative Party. Another regular participant in the activities at Bryn Clwyd was alleged by Scallywag to be Derek Laud, for years a leading mover and shaker in successive Conservative administrations.

Scallywag alleged that Laud was a sadist, who was particularly violent and without mercy in his treatment of the boys. The magazine alleged that on regular occasions his victims would end up in casualty wards. He was a leading political fixer and adviser to Margaret Thatcher although never an MP, indeed he was pictured waving down to the crowds below from an upstairs window of 10 Downing Street as the Conservatives celebrated their 1988 election victory.



The former children connected with this empire of evil who died in mysterious circumstances may have been murdered by the British security services, the price of their silence their lives. Scallywag alleged that MI5 used to take foreign diplomats etc to the North Wales homes, give them boys to "play" with, secretly filmed them as they buggered, abused and tortured boys then kept the tapes as evidence.



Michael Brown is one of the very few Conservative MP's who volunteered to "out" himself as gay. Derek Laud, now standing for parliament, (against Bernie Grant in North London) ran a Pimlico PR agency called Ludgate Communications for a number of years which supplied young boys for selected parliamentarians from children's homes now being investigated in North Wales. He sometimes did this in cahoots with Ian Greer Associates which has since been scandalised because of the Neil Hamilton Affair and payment for questions on behalf of Al Fayed.

Ludgate Communications was at the very hub of our investigation into the "boys for questions" allegations. At his Pimlico flat, and selected addresses in Dolphin Square nearby, Laud threw paedophile parties and we have one sworn affidavit from a former boy (presently giving evidence in Wales) who claims he was seriously molested (among many others) by Lord McAlpine who was at the time the Tory party's clandestine fund raiser. It was alleged by this boy and others that Messrs Portillo and Lilley were also guests of Derek Laud. We are assured that this particular volcano is about to erupt, both in North Wales and elsewhere. Michael Portillo has always publicly disassociated himself from Derek Laud, yet here we find him not only acquainted but seemingly in the inner sanctum of private friends.


And more...
Michael Colvin

Colvin was associated closely with several other Conservative 'people' on the right wing of the party including Julian Lewis who is said to be involved with a number of international right wing 'covert' groups linked with high finance, and arms dealing.

Colvin was also associated with two allegedly corrupt and discredited former Parliamentary Lobbyists, Ian Greer (cash for questions) and Derek Laud (wikipedia/Derek Laud) (Cash for Knighthoods aka Cash for Rentboys).

Both Greer and Laud have links with South Africa - Greer now lives there and Laud is a frequent visitor.

In view of their links with Parliamentary corruption in the UK and extreme levels of alleged corruption in the 'new' South African multi-racial Government, it seems possible that both Greer and Laud may find the culture of South Africa politically highly amenable.

It is probably only a coincidence, but during a major scandal around the abuse of children in care in an area of the UK called Clwyd, both laud and Greer's names were mentioned by alleged victims in connection with organised sexual abuse involving VIP's including, allegedly, members of the UK Government.

During that scandal a fire in Hove, near Brighton, killed five alleged victims of abuse. Many people believe the fire was deliberately set. With the five young people from Clwyd who died was a Health Visitor from Hampshire where Laud has a home and where Colvin lived. She also was killed in the fire.

Michael Colvin died at a fire in his magnificent Hampshire home. He had been speaking to Derek Laud days, if not hours, previously.

There have been many allegations that Hampshire County Council, and of course Colvin lived in Hampshire, through the influence of Derek Laud and his friend Julian Lewis, is a central player in a national paedophile ring supplying young boys from care systems as in Clwyd to VIP's. The VIP's are said to have included top people in the law, commerce, and politics - across the party spectrum - at specially organised parties and other gatherings sometime on a one to one basis and sometimes at hotels where staff allegedly colluded with the exploitation of youngsters. The Crest hotel in Wrexham and an Hotel on Hove seafront have specifically been mentioned, although in the Hove instance it maybe that staff at the hotel colluded with the supply of youngsters and that 'meetings' took place elsewhere.

It has been alleged that officials and councillors in a number of local authorities may be receiving payments for identifying 'appropriate' young people in care and introducing them to the ring, and ultimately to Laud and Lewis and their associates, who then, it has been alleged, introduce the boys to 'interested' VIP's.

Within the list of alleged collaborators in counties along the south coast with the supply of teenage boys for exploitation is a Social Services Director in one LA., an Assistant Director of Children's Social Services in another, chief executives in two others, several social workers and also a number of child protection workers. As well as a number of Councillors, including former Leader of Hampshire Council and Lord Mayor of Portsmouth, Freddie Emery Wallis who was convicted in 2001 of molesting young boys.

In the 1990's Derek Laud had an address at East Cottage, Needs Ore Point (shown on electoral records). That is on the Estate of Lord Monatgue of Beuleigh who those of 'a certain age' will remember was convicted of molesting a boy scout back in the 1960's.

Colvin was associated with most of these people in one way or another.

Recent revelations involve the corruption of evidence by senior council officials in North Wales with regard to information supplied to the Waterhouse inquiry into allegations of VIP child abuse in Clwyd. It has been revealed that although in the inquiry allegations made by a number of young people were discredited because they had made allegations against social workers who records showed had not been employed where they said during the time they were in care in those homes, in fact, if allegations are true, a secretary in North Wales Council had been instructed to alter the official records of dates and where and when specific youngsters were in care. (Angus Stickler, BBC, gained some evidence about this). It was not therefore the youngsters who were lying, but the officials. More significantly, these tricks were played mainly on youngsters who had made allegations against care workers and against VIP's. With the allegations against the care workers discredited, obviously the allegations against VIP's fell by the wayside.

There have also been allegations that this high level paedophile 'ring' has placed its own people into positions of statutory power over children in care, and investigation suggests these allegations may have substance.

The involvement of Derek Laud, who was educated in the remedial stream at a south London comprehensive school where it has been alleged he pimped his classmates to wealthy and influential adults even while still at school, is significant. The psychopathic behaviour of Laud and Lewis that has caused significant comment from time to time may be far more dangerous than just eccentric.

It is worthy of note that people around Derek Laud who challenge him appear to suffer significant harm - or to die - with unusual frequency. Michael Colvin was an associate. Deceased investigative journalist Simon Regan challenged both Laud and Lewis frequently and died 'after a short illness' soon after his final tirade against Laud and Lewis. The alleged victims of VIP abuse who died in a fire in Palmeira Avenue Hove in 1991 had also linked Laud, Lewis, and Greer, to the circumstances of the abuse they said they had suffered in care.

Colvin therefore, despite a fairly mundane Tory image, was aligned with some allegedly very nasty people indeed.

As a final comment, in the 1980's and 1990's, and some say currently, it appears that lobbyists such as Greer and Laud were supplying teenage boys to MP's and others in politics specifically with the aim of exerting political influence.

Michael Portillo, Peter Lilley, Ian Hamilton, and other Thatcherite politicians of the 1980's were all associated with Laud and Lewis, and all were alleged to have been guests at paedophile parties in London at which boys from care in a number of local authorities, including North Wales, Shropshire, Hampshire, Dorset, Brighton and Hove and others, were allegedly 'ferried in' with the co-operation of social workers to provide sexual entertainments for the guests. It has also been alleged that Portillo frequently took 'kinky holidays' in North Africa with his friend Derek Laud. Portillo insists that Laud was a guest on these holidays of him and his wife, but it has been alleged that hotel records do not confirm that Portillo's wife was there at all.


More on McAlpine...
Lord McAlpine

This perverted, sick, twisted, SOB has been named time and time again in North Wales inquiries into child abuse, yet he still enjoys total freedom to abuse and kill young children (yes, that's right, kill children).



His sordid past is so depraved it beggars belief. There is a video tape hidden at the moment which shows him with two other child sexual abusers, torturing and raping young boys. The film was made in Wales. A very well known investigative programme was loaned a copy in order that the story could be revealed and the children could finally get some justice and some peace. What a pity the company decided not to run the story, even though one of the women who watched it admitted to having to leave the room to be sick after only a couple of minutes.



There is a lot more to the abuse side of this case, but as I am still investigating this I cannot reveal anymore at this time. However, I would like to know what happened to almost 20 million pounds of Conservative Party funds which I understand are still in an offshore account controlled by him and former Prime Minister, Margaret Thatcher. I would also like to ask the former Prime Minister why she stood up for McAlpine when information was passed to her by the security services in relation to McAlpine, and it was only after a large amount of pressure was put on her that she removed him from his post before information leaked out.


And Brown...
Gordon Brown

In the early months of 2003, just prior to the illegal invasion of Iraq, and working in conjunction with a London-based freelance journalist who had thoroughly double-checked exposures published by the Scottish 'Sunday Herald' newspaper, I publicised details of a child-sex ring linked to senior ministers within the Blair government.



I initially published my findings, stemming from discreet leaks from a secret list provided by the American FBI to the 'Sunday Times' newspaper, and concomitantly discovered that Tony Blair had issued a gagging order to suppress all further discussion of a scandal that would most certainly have brought a swift end to his administration and made Britain's collusion in the destruction of Iraq impossible.



The articles I wrote concerning the "Operation Ore" cover-up and the 100-year blackout order imposed upon the report concerning the Dunblane massacre of children used and abused by senior Scottish Labour government ministers can still be found here:

Alleged Pedophiles at Helm of Britain's War Machine, Massive Cover-Up
www.propagandamatrix.com/alleged_pedophiles.html [Ref. 1]

Blair's Protection of Elite Paedophile Ring Spells the End For His Career
www.propagandamatrix.com/blair_protection.html [Ref. 2]

Blackout in Britain: Alleged Pedophiles Helm Blair's War Room
www.counterpunch.org/james01292003.html

Blackout in Britain: Alleged Paedophiles at Helm of Britain's War Machine
http://www.thetruthseeker.co.uk/article.asp?ID=8257

Tony Blair Caught Protecting Elite Paedophile Ring
www.thetruthseeker.co.uk/article.asp?ID=8258

Cremation of Care: The New World Order and the Dunblane Shootings
www.cremationofcare.com/the_nwo_dunblane.htm

Dunblane Secret Documents Contain Letters by Tory and Labour Ministers
www.thetruthseeker.co.uk/article.asp?ID=600

These stories, which also implicated the Attorney-General Lord Goldsmith, former NATO Boss Lord Robertson, and the Svengali of Tony Blair and Gordon Brown's rise to power, the flamboyant homosexual Peter Mandelson (now Lord Mandelson), were widely publicised on the Internet, excited debate within numerous online forums, and inspired Robert Kilroy-Silk's former Veritas Party to undertake a detailed examination of the extent to which senior and junior ministers close to Gordon Brown were given free licence to engage in paedophiliac activities under the protection of the British intelligence services.

The Sunday Herald's incendiary story ("Child Porn Arrests Too Slow", 19 January 2003), written by its Home Affair's correspondent Neil Mackay, disappeared rapidly from the Internet within weeks of my exposure. Mackay's editor, at first cooperative, subsequently refused to answer any further enquiries put to him by myself and the freelance journalist Bob Kearley.

Each and every letter I sent to the British Home Office, Scotland Yard and the Sunday Times solicited not one single reply.

Lord Robertson, a self-confessed Freemasonic member of Edinburgh's sinister "Speculative Society" lodge, who enjoyed a peculiarly close personal relationship with Thomas Hamilton, the mass murderer of abused children in Dunblane, failed to sue the Sunday Herald for libel and promptly disappeared from public life. Police records revealed that Robertson had helped expedite the process by which the Manchurian Candidate, Hamilton, already a convicted child molester with known affiliations to the British elite, was able to obtain gun licenses.

Roberston worked in collusion with Michael Forsyth (Secretary of State for Scotland), a fellow "Speculative Freemason" and Robert Bell, an associate of Malcolm Rifkind (British Foreign Secretary). Robertson, at the behest of Tony Blair and Gordon Brown, had a vested interest in 'wasting' children who were beginning to talk.

On 13 March 1996, Thomas Hamilton, a former Boy Scout leader walked into Dunblane Primary School armed with two 9 mm pistols and two .357 Magnum revolvers. He killed sixteen small children and a teacher. The subsequent police investigation revealed that Hamilton had loaded the magazines for his Browning with an alternating combination of fully metal-jacketed and hollow point ammunition. This horrific event led to the banning of handguns in the UK. [How convenient.]

The Judge who conducted the inquiry into the atrocity, during which two teachers claimed to have seen another mysterious man "guiding" Hamilton onto the premises, was Lord Cullen. Cullen, also a member of the Freemasonic Speculative Society and an associate of Labour "Scottish Mafia" figures such as Lord Robertson, Tony Blair, John Reid and Gordon Brown, was accused by leading journalists and emergency service personnel of having achieved a cover-up.

According to journalist Marcello Mega, in The News of the World, 28 December 2003:

1. A top Scottish Freemason, Former Grand Master Lord Burton, has said that Lord Cullen's inquiry into the Dunblane massacre was a cover-up.

Lord Burton says Cullen's inquiry suppressed crucial information to protect high-profile legal figures.

2. These high-profile legal figures may belong to a secretive 'Super-Mason' group called The Speculative Society.

Lord Burton said: "I have learned of an apparent connection between prominent members of the legal establishment involved in the inquiry, and the secretive Speculative Society. The society was formed in Edinburgh University through Masonic connections so I accept that there might be a link by that route." Reportedly, members of the Speculative Society have included Lord Cullen and a number of other judges, sheriffs and advocates.

3. Some of these high-profile people had links to the Queen Victoria School 'where gunman Thomas Hamilton was allowed to roam free before the 1996 atrocity'.

4. Reportedly the police are investigating claims that pupils at Queen Victoria School were regularly taken away and sexually abused.

5. Former housemaster Glenn Harrison told the News of the World how he even found Hamilton, 43, creeping around the dormitories at night. He said Hamilton had close links to a top policeman. Glenn was never called to give evidence at the Cullen Inquiry.

6. Lord Burton said: "I tried repeatedly to raise concerns about the inquiry during my time in the Lords, and I was bullied and threatened by powerful peers loyal to the Conservative Government of the day, who warned me of dire consequences if I continued to embarrass them." ( According to this source Cached - 'Malcolm Rifkind's friend and his then Chairman of his constituency party at Edinburgh Pentlands, Robert Bell, according to the front page lead of the Edinburgh Evening News on 23 March 1996, sold guns and ammunition to Thomas Hamilton only a few weeks before the Dunblane massacre, and it was reported he said he would sell him guns again.')

8. Glenn Harrison had kept dozens of files from pupils alleging bullying and abuse while he was at the Queen Victoria School and wrote to parents warning of the dangers in 1991. It led to him being ousted from the school and just days before he left, police raided his home and confiscated the files.

9. Glenn states that Hamilton had been a friend of Ben Philip, the senior housemaster at QVS. Mr Philip died in December 1993, aged 46, when he fell from a ladder while hanging decorations.

scot-land.blogspot.com/2007/12/lord-cullen-dunblane-lockerbie.html

For William Burns' further elucidation of the cover-up
www.perceptions.couk.com/dunbla33.txt

Alan Milburn, a close ally of Tony Blair, also resigned dramatically from the senior benches of the Labour Party government shortly after Scotland Yard's anti-paedophile investigation was suppressed by the Blair administration, citing the need to "spend more time with my family".

For some reason, the abduction of Scottish children for the purpose of rape and murder, always closely linked to senior Labour Party political figures, continues unabated.

Pressure on Police to Release Paedophile Dossier
www.timesonline.co.uk/tol/news/uk/scotland/article708514.ece

Although Labour Supremo Peter Mandelson's alleged role in the kidnapping of young girls and boys for the "pleasuring" of the European Union's elite commissioners in Brussels was the subject of intense speculation long before the disappearance of Madeleine McCann, I can now bring to a close all speculation as to the name of Tony Blair's most "highly placed and senior politician" who fell not only under the scrutiny of Scotland Yard for crimes against children, but was also identified by the FBI as an active member of the paedophile ring run by Thomas Hamilton.

That name was first revealed to me by Norman Lamont at a private party in Clapham in 1986, during which time I worked as a scriptwriter for the British television media. Lamont later became Chancellor of the Exchequer under John Major's Conservative administration. Following investigations in 2003 on both my and Bob Kearley's part, that name cropped up time and time again, and I passed the details to Internet journalist Paul Joseph Watson.

Gordon Brown is a practising paedophile whose activities are known not only to the British, American and Israeli intelligence services, but also by Rupert Murdoch and his senior editor at the Sunday Times.


What a country we live in!