.
http://www.presstv.ir/detail.aspx?id=126852&sectionid=351020201
Torture victim's injuries 'horrifying'
18 May
A top British general says he is "absolutely horrified" to see the number of injuries sustained by a civilian victim of torture in UK-run prisons in Iraq.
Gen. Sir John Reith, who is in charge of British operations in Iraq, said he was unaware of the harsh interrogation techniques that led to the death of a Basra hotel worker, Baha Mousa, in the custody of British soldiers in September 2003.
Held by soldiers from the 1st Battalion the Queen's Lancashire Regiment along with other Iraqi civilians,
Mousa was reportedly hooded and beaten on a regular basis. The 26-year-old hotel receptionist finally died of asphyxia while he sustained 93 injuries, including a broken nose and fractured ribs.
"If I had been aware that hooding for the purposes of interrogation, stress positions, white noise and/or the deprivation of food, water and/or sleep were being used in 2003 I would have ordered this to cease immediately,"
the Guardian
on Tuesday quoted Reith as saying.
An inquiry into the incident heard that the abuse of the Iraqi detainees had continued even after a May 2003 order by Gen. Robin Brims -- the then commander of British troops in southern Iraq -- that banned hooding.
Reith, chief of UK joint operations based at Northwood, north-west London, said he was not aware of that order and issued his own ban on hooding in October 2003 upon reports that it was still being practiced.
The general said he had not been aware of any complaints by the international Red Cross (ICRC) about mistreatment of Iraqi prisoners in UK-run centers.
But the inquiry has heard that the ICRC had complained about the treatment of Iraqi detainees even before Mousa's death.
Reith said he had always been told that hooding and other means of sight deprivation were only used temporarily during the transfer of detainees and for security reasons.
The inquiry, however, has heard that Mousa and other prisoners were constantly exposed to long periods of hooding by British soldiers.
MRS/MRS
--------------------------------------------------------------------------------------------------------------
http://www.guardian.co.uk/world/2010/may/19/g8-italian-police-sentenced
Top Italian policemen get up to five years for violent attack on G8 protesters
Sentences suggest appeal judges accept that 2001 night raid, when many were savagely beaten, was planned and covered up
John Hooper
in Rome
19 May 2010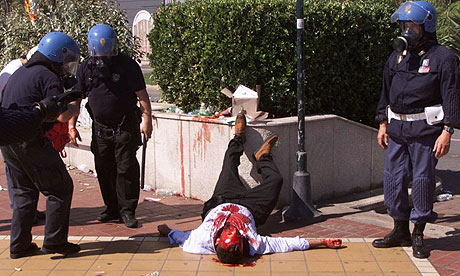 Some of Italy's most senior police officers have been given jail sentences of up to five years for what the prosecution called a "terrible" attack on demonstrators at the 2001 G8 meeting in Genoa and an attempted cover-up.
Victims of the attack, who included several Britons, expressed delight at the ruling, which overturned many of the conclusions reached by the judges at the original trial in 2008. Mark Covell, aged 42, from Reading, who was beaten into a coma, said: "This is beyond my wildest expectations. The Italian judiciary has recognised the truth of what happened. Human rights have finally been respected here. Italians will now recognise their cops do not have immunity. But it has taken nine years, and I was at the end of my tether."
It is highly unlikely that any of the officers will go behind bars. The case has taken so long that most of the offences of which they were accused have been "timed out" by statutes of limitations.
But several of the most senior defendants were also given five-year disqualifications from public office – sanctions that could prejudice or halt their careers. None was suspended after being sent for trial.
On the night of 21 July 2001, at least 150 masked police officers wearing unnumbered uniforms attacked a school being used as a dormitory by protesters against corporate globalisation. Such was the ferocity of the beatings that followed that one commander said the school was left resembling a "Mexican slaughterhouse", its walls splattered with blood.
Twenty-eight of the injured were taken to hospital and three were put on the critical list.
The police claimed the Armando Diaz school was the headquarters of the Black Bloc demonstrators who had caused mayhem in Genoa over the previous two days, that they had found Molotov cocktails, and that an officer had been attacked with a knife. But, as was later accepted by the Italian courts, none of the victims had been involved in violence, the petrol bombs were planted and the knife attack was rigged.
Addressing the appeal judges, the chief prosecutor of Genoa said they could not overlook "the terrible injuries inflicted on defenceless people, the premeditation, the covered faces, the falsification of statements by the 93 anti-globalisation protesters, the lies about their alleged resistance [to arrest]". Under Italian law, the prosecution as well as the defence can appeal.
Though the reasoning behind the appeal verdict has yet to be published, it is clear from convictions and sentences that the judges accepted the attack was planned, and then covered up, at a high level. That in turn is an embarrassment for Silvio Berlusconi's government, which has backed the defendants throughout.
Among those convicted were Francesco Gratteri, the head of police criminal investigation, and Giovanni Luperi, who was subsequently promoted to a senior job in Italian intelligence. Both men got four years.
The head of the riot squad unit that spearheaded the raid was given five years. The two policemen who planted the Molotov cocktails were each sentenced to three years and nine months.
The original trial ended in November 2008. There was uproar in court and chants of "Shame! Shame!" from victims and their relatives as the verdict was read.
The judges handed out sentences of up to four years to some of the operational commanders. But they acquitted the senior officers, who were filmed standing outside the school as the beatings took place.
The appeal court verdict, delivered shortly before midnight on Tuesday, means 25 of the 27 defendants have now been convicted.
---------------------------------------------------------------------------------------------------------------
http://www.kawther.info/wpr/2010/05/18/the-justice-of-executions
The Justice of Executions?
May 18 2010
Kawther Salam
Medical sources from Gaza confirmed that three Palestinians arrived early today at Al-Shifa Hospital in Gaza after having been executed. Hamas security sources stated that Amer Jondyye, Rami Juha and Matar Al-Shobaki had been
executed for crimes. Jundyye was accused of murdering the money changer Fawzi Jamil Ajjur, aged 40 and from the Al-Rimal area from Gaza. The killer was captured by Hamas forces, the body of the victim had been buried in the yard of the house of the murderer. Juha was one among four who were accused in the killing of the girl Mayada Abu Lamthe on September 25 2003. The murderers were sentenced to death in June 2005. Al-Shobaki, was sentenced to death after he was accused of kidnapping and murdering the money changer Abdullah Ramadan Shehadeh.
Hamas also executed two other Palestinians, Freih Abu Nasser Salama and Mohamed Ibrahim Ismail on April 15 2010 after they were charged of keeping contact with the Israeli occupation. Hamas also carried out the execution of two other Palestinians during the last year.
The Palestinian movement of Fatah, the political wing of the Palestinian Authority, has accused the illegal government of Hamas of executing dozens of it's elements in the years of 2006 – 2007. They also accused them of deliberately shooting at the legs of detainees after breaking the bones of their hands and legs.

The Palestinian Authority under President Mahmoud Abbas sentenced to death 28 Palestinians between April 6 2008 and December 9 2009. 14 were accused of having contact with Israel, three were accused of the murder of money changer Jamil Kamel on October 4 2009. Four were accused of establishing an illegal "devil organization" (probably a satanist group) in 2006, three were accused of kidnapping people, two were accused of rape. Some of these people, 5, have been executed, the others are waiting for the confirmation of their sentences by President Abbas.
The execution rulings were all issued by the Palestinian military court. Before that, the PA had
sentenced to death 71 Palestinians between May 3 1995 and November 29 2005, and the PA had executed 14 Palestinians under the deceased President Yasser Arafat. The executions of Mohammad Kamal abu Soltan and Raed Kamal abu Soltan on 29 August 1998, who were accused of murdering Mohammad Ibrahim Al-Khalidi, were carried out with the presence of the former justice minister Freih Abu Median, Abdel Rahman Hamad, former Minister of housing, Saadi Al-Karnaz, former Minister of Industry, and attended by the legislative council members Jamileh Saydam, Kamal Al-Sharafi, Jawad Al-Tibi, Rawhi Fattuh, Jalal Al-Masdar, the heads of the security systems and some members of the family al-Khalidi, the victim. Click on pictures to see them bigger.
Both the Palestinian Authority and Hamas regimes are illegal and have no real
legitimacy, both are issuing more and more death sentences by the military courts, in flagrant violation of the principles of human rights. The accused persons are not given fair trials in civilian courts, where they could defend themselves from the accusations leveled against them. Under the present conditions, with the populations of both Gaza and the West Bank subjected to genocidal measures by israel, to sentence people to death without even allowing them a fair trial is plain and simple murder in cold blood and collaboration with the enemy.
That political officials would attend these executions as if they were something to celebrate is a testimony to the disgusting sadism and double standards of these people. It is not like anybody, ever, has been accused of mistreating or murdering a woman in Palestine, to the contrary, abusers and murderers of women are even protected by these regimes.
---
Addendum and explanation / 20 May :
Both Fatah and Hamas were legitimately elected to form a government, the "PA", in 2006. This never came into existence because of the criminal intermission of israel and their accomplices. Neither Fatah nor Hamas were intended to form a government on their own, one imposing extremist religious views on Gaza, the other one collaborating with the occupation and stealing and selling out everything not screwed tight in the West Bank.
Both Fatah and Hamas have lost any claims to legitimacy because they have divided the Palestinian nation and they are imposing brutal dictatorship on the Palestinian people on top of the genocidal horrors brought upon us by the jews. Both factions are infiltrated by jewish zionist interests. Mitchell was never allowed by anybody to negotiate on our behalf, he is a nobody, and Abbas is ruling only as a puppet of the CIA. The limit of time for which they were elected is over, there have been no new elections, and they have achieved nothing but to disgrace themselves. They have no more legitimacy than israel.
---------------------------------------------------------------------------------------------------------------
http://www.presstv.ir/detail.aspx?id=126589&sectionid=351020403
Hersh: US executes Afghan prisoners
15 May 2010
As the Afghan occupation continues to prove troublesome for the Obama administration, a
report says US-led troops torture and execute prisoners in the country.
Seymour Hersh, an investigative journalist with the New Yorker, made the revelation during the Global Investigative Journalism Conference in Geneva.
"I'll tell you right now, one of the great tragedies of my country is that Mr. Obama is looking the other way, because equally horrible things are happening to prisoners, to those we capture in Afghanistan," Hersh said.
He also alleged that
US forces were engaged in 'battlefield executions'
and other heinous offences, Raw Story reported.
"They're being executed on the battlefield. It's unbelievable stuff going on there that doesn't necessarily get reported. Things don't change," Hersh noted.
Hersh who worked for many years at The New York Times also helped break the story that detainees at the Abu Ghraib prison in Iraq were being tortured by their US jailers.
The report comes as
the International Committee of the Red Cross (ICRC) has recently confirmed reports about the existence of a secret detention facility at a US airbase in Bagram in Afghanistan
Human rights groups say Bagram and other US-ran jail facilities have remained US torture centers since the toppling of the Taliban regime in Afghanistan nine years ago.
However, US officials claim that all inmates in the facility are treated humanely.
JR/MD
---------------------------------------------------------------------------------------------------------------
http://www.theatlantic.com/politics/archive/2010/05/inside-the-secret-interrogation-facility-at-bagram/56678/
Inside the Secret Interrogation Facility at Bagram
By Marc Ambinder
The Defense Intelligence Agency (DIA) runs a classified interrogation facility for high-value detainees inside Bagram Air Field in Afghanistan, defense and administration officials said, and prisoners there are sometimes subject to tougher interrogation methods than those used elsewhere.
Both the
New York Times
and the
BBC
reported that prisoners who passed through the facility reported
abuse, like beatings and sexual humiliation, to the Red Cross, which is not allowed access. The commander in charge of detention operations in Afghanistan, Vice Admiral Robert Harward,
has insisted
that all detainees under his purview have regular Red Cross access and are not mistreated.
It has been previously reported that the facility, beige on the outside with a green gate, was operated by members of a Joint Special Operations Command (JSOC) group, allegedly outside of Harward's jurisdiction. But JSOC, a component command made up of highly secret special mission units and task forces, does not operate the facility.
Instead,
it is manned by intelligence operatives and interrogators who work for the DIA's Defense Counterintelligence and Human Intelligence Center (DCHC). They perform interrogations for a sub-unit of Task Force 714, an elite counter-terrorism brigade.
Called the "black jail" by some of those who have transited through it, it is a way-point for detainees who are thought to possess actionable information about the Taliban or Al Qaeda.
Intelligence gleaned from these interrogations has often led to some of the military's highest profile captures. Usually, captives are first detained at one of at least six classified Field Interrogation Sites in Afghanistan, and then dropped off at the DIA facility -- and, when the interrogators are finished, transferred to the main prison population at the Bagram Theater Internment Facility.
"DoD does operate some temporary screening detention facilities which are classified to preserve operational security; however, both the [Red Cross] and the host nation have knowledge of these facilities," said Bryan Whitman, a Pentagon spokesperson. "Screening facilities help military officials determine if an individual should be detained further and assists military forces with timely information vital to ongoing operations."
Whitman would not say who ran the facility or provide any details. A DIA spokesperson declined to comment, as did the White House, which referred questions to the Pentagon.

Under a directive issued by the commander of coalition forces in Afghanistan, Gen. Stanley McChrystal, those captured on the battlefield can be detained for only 96 hours unless they are deemed to possess intelligence value. In practice, military units can unofficially transfer detainees they pick up to other field units before they arrive at interrogation sites, giving American and Afghan interrogators more time to ferret out useful information.

According to other officials, personnel at the facility are supposed to follow the Army Field Manual's guidelines for interrogations.

When he took office, President Obama signed an

executive order

banning the Central Intelligence Agency and the military from using techniques not listed in the manual. But he has a task force studying whether the expressly manual-approved tactics are sufficient.



However,

under secret authorization, the DIA interrogators use methods detailed in an appendix to the

Field Manual, Appendix M

, which spells out "restricted" interrogation techniques.



Under certain circumstances,

interrogators can deprive prisoners of sleep (four hours at a time, for up to 30 days), to confuse their senses, and to keep them separate from the rest of the prison population. The Red Cross is now notified if the captives are kept at the facility for longer than two weeks.





When interrogators are using Appendix M measures, the Undersecretary of Defense for Intelligence, Gen.James Clapper (Ret.) is the man on the hook. Detainees designated as prisoners of war cannot be subjected to Appendix M measures.



The DCHC is a relatively new organization. It has several branches and has absorbed staff from the the now largely disbanded Strategic Support Branch, which provided CIA-like intelligence services to ground combat units. The DCHC also performs some of the work that the Counterintelligence Field Activity (CIFA), which was accused of spying on American political groups, used to do. Many of the staff, civilian and military, as well as many contractors, previously worked with CIFA.



Defense officials said that the White House is kept appraised of the methods used by interrogators at the site. The reason why the Red Cross hasn't been invited to tour it, officials said, was because the U.S. does not believe it to be a detention facility, classifying it instead as an intelligence gathering facility.



A Defense official said that the agency's inspector general had launched an internal investigation into reports in the Washington Post that several teenagers were beaten by the interrogators, but Whitman disputes this.

When the Obama Administration took over, it forbade the DIA from keeping prisoners in the facility longer than 30 days, although it is not clear how that dictum is enforced. It is also not clear how much Congress knows about the DIA's interrogation procedures, which have largely escaped public scrutiny.


"In all our facilities the standard is humane treatment and all DoD detention facilities are required to be compliant with Common Article III, The Detainee Treatment Act, the Executive Order signed by the President last year, and the DoD Detainee Directive and the Army Field Manual," Whitman said.
Although the CIA's enhanced interrogation program was investigated and a Justice Department prosecutor is currently reviewing those files, the Defense Department's parallel activities have been given little scrutiny. To this day,
the Department denies the existence of a "special access program," codenamed "Copper Green," which allegedly authorized military interrogators to use extremely harsh methods, including the infliction of sexual humiliation, on high-value terrorists.
Only
about 200 military and civilian personnel were aware of Copper Green's existence before it was disclosed by the New Yorker's Seymour Hersh. The CIA's program, known internally by the acronym "GST," has been discontinued. Although "Copper Green" was disbanded, the Defense Department's detainee affairs section has set up a new special access program under which the rules for battlefield interrogations are established. It is classified Top Secret.
Bagram is in the middle of a major expansion, and the DIA facility is being renovated, officials said.
Harward, a former special operations squadron commander, has said he hopes to turn the base over to the Afghan military by 2011.
The Atlantic Monthly Group
---------------------------------------------------------------------------------------------------------------
http://news.bbc.co.uk/1/hi/world/south_asia/8674179.stm
Red Cross confirms 'second jail' at Bagram, Afghanistan
Hilary Andersson
11 May 2010
The US airbase at Bagram in Afghanistan contains a facility for detainees that is distinct from its main prison, the Red Cross has confirmed to the BBC.
Nine former prisoners have told the BBC that they were held in a separate building, and subjected to abuse.
The US military says the main prison, now called the Detention Facility in Parwan, is the only detention facility on the base.
However, it has said it will look into the abuse allegations made to the BBC.
The International Committee of the Red Cross (ICRC) said that since August 2009 US authorities have been notifying it of names of detained people in a separate structure at Bagram.
"The ICRC is being notified by the US authorities of detained people within 14 days of their arrest," a Red Cross spokesman said.
"This has been routine practice since August 2009 and is a development welcomed by the ICRC."
The spokesman was responding to a question from the BBC about the existence of the facility, referred to by many former prisoners as the Tor Jail, which translates as "black jail".
ALLEGED 'SECRET' JAIL ABUSE
Beatings by US soldiers during arrest
Prisoners deliberately prevented from sleeping
Relatives not notified where detainees are held
Lights kept on in cells at all times
US denies abuse allegations
"We are being notified about persons at the Bagram Theatre Internment Facility [now Detention Facility in Parwan] since Feb 2008," the ICRC spokesman added.
In recent weeks the BBC has logged the testimonies of nine prisoners who say they had been held in the so-called "Tor Jail".
They told consistent stories of being held in isolation in cold cells where a light is on all day and night.
The men said they had been deprived of sleep by US military personnel there.
In response to these allegations, Vice Adm Robert Harward, in charge of US detentions in Afghanistan, denied the existence of such a facility or abuses.
He told the BBC that the Parwan Detention Facility was the only US detention centre in the country.
---------------------------------------------------------------------------------------------------------------
http://www.salon.com/news/opinion/glenn_greenwald/2010/05/28/guantanamo/index.html
A disgrace of historic proportions
Glenn Greenwald
May 28, 2010
The Miami Herald's Carol Rosenberg reports that, this week, yet another federal judge has ordered the Obama administration to release yet another Guantanamo detainee on the ground that there is no persuasive evidence to justify his detention. The latest detainee to win his habeas hearing, Mohammed Hassen, is a 27-year old Yemeni imprisoned by the U.S. without charges for 8 years, since he was 19 years old. He has "long claimed he was captured in Pakistan studying the Quran and had no ties to al Qaida," and that "he had been unjustly rounded up in a March 2002 dragnet by Pakistani security forces in the city of Faisalabad that targeted Arabs." Hassen is now the third consecutive detainee ordered freed who was rounded up in that same raid. The Obama DOJ opposed his petition even though the Bush administration had cleared him for release in 2007. He has now spent roughly 30% of his life in a cage at Guantanamo.
What's most significant about this is that Hassen is now the 36th detainee who has won his habeas hearing since the Supreme Court in 2008 ruled they have the right to such hearings -- out of 50 whose petitions have been heard. In other words, 72% of Guantanamo detainees who finally were able to obtain just minimal due process (which is what a habeas hearing is) -- after years of being in a cage without charges -- have been found by federal judges to be wrongfully detained. These are people who are part of what the U.S. Government continues to insist are "the worst of the worst" who remain, and whose release is being vehemently contested by the Obama DOJ.
The real disgrace here is that the U.S. Congress, in 2006, enacted the Military Commissions Act, which explicitly denied all Guantanamo detainees any rights to habeas review. The widely loved Lindsey Graham -- along with the profoundly noble Joe Lieberman and John McCain -- were the prime sponsors of that provision. Think about what that means, what the people who voted for that (including 12 Democratic Senators) tried to do: had the Supreme Court not struck down that provision by a 5-4 vote in Boumediene, all of these innocent people would continue to be denied any rights of judicial review, and would unjustly languish in prison indefinitely. The people who voted for the Military Commissions Act, and the 4 Supreme Court Justices who sought to uphold it, knowingly acted to deny scores of innocent prisoners any opportunity for judicial review. That's as warped and as evil as it gets.
And despite knowing how many people we are innocently imprisoning, the Obama administration continues to demand the power to imprison people with no judicial review: by indefinitely detaining them without charges, by insisting that Bagram detainees captured outside Afghanistan have no habeas rights, by refusing to release any Yemeni detainees at Guantanamo, including those whom the administration itself knows are being wrongfully detained. And in light of all this, who in their right mind would trust the President to assassinate fellow citizens based purely on his unchecked, unreviewed conclusion that the person is a Terrorist? It's commonplace to label something a travesty of justice, but who can deny that knowingly imprisoning innocent people for years and years while scheming to deny them all judicial review is a disgrace of historic proportions?
UPDATE: One other point: the Carol Rosenberg who reported on the Hassen victory and is one of the very few reporters who pays substantial attention to all of the Guantanamo detainees who are winning their habeas cases, is the same Carol Rosenberg whom the Obama DOD just banned from covering military commissions at Guantanamo. Maybe The New York Times can do a big story tomorrow on how press freedoms are being curtailed in Pakistan -- or how due process is being denied in Iran.
http://www.salon.com/news/opinion/glenn_greenwald/2010/05/21/bagram/index.html
Obama wins the right to detain people with no habeas review
May 21, 2010
Few issues highlight Barack Obama's extreme hypocrisy the way that Bagram does. As everyone knows, one of George Bush's most extreme policies was abducting people from all over the world -- far away from any battlefield -- and then detaining them at Guantanamo with no legal rights of any kind, not even the most minimal right to a habeas review in a federal court. Back in the day, this was called "Bush's legal black hole." In 2006, Congress codified that policy by enacting the Military Commissions Act, but in 2008, the Supreme Court, in Boumediene v. Bush, ruled that provision unconstitutional, holding that the Constitution grants habeas corpus rights even to foreign nationals held at Guantanamo. Since then, detainees have won 35 out of 48 habeas hearings brought pursuant to Boumediene, on the ground that there was insufficient evidence to justify their detention.
Immediately following Boumediene, the Bush administration argued that the decision was inapplicable to detainees at Bagram -- including even those detained outside of Afghanistan but then flown to Afghanistan to be imprisoned. Amazingly, the Bush DOJ -- in a lawsuit brought by Bagram detainees seeking habeas review of their detention -- contended that if they abduct someone and ship them to Guantanamo, then that person (under Boumediene) has the right to a habeas hearing, but if they instead ship them to Bagram, then the detainee has no rights of any kind. In other words, the detainee's Constitutional rights depends on where the Government decides to drop them off to be encaged. One of the first acts undertaken by the Obama DOJ that actually shocked civil libertarians was when, last February, as The New York Times put it, Obama lawyers "told a federal judge that military detainees in Afghanistan have no legal right to challenge their imprisonment there, embracing a key argument of former President Bush's legal team."
But last April, John Bates, the Bush-43-appointed, right-wing judge overseeing the case, rejected the Bush/Obama position and held that Boumediene applies to detainees picked up outside of Afghanistan and then shipped to Bagram. I reviewed that ruling here, in which Judge Bates explained that the Bagram detainees are "virtually identical to the detainees in Boumediene," and that the Constitutional issue was exactly the same: namely, "the concern that the President could move detainees physically beyond the reach of the Constitution and detain them indefinitely."
But the Obama administration was undeterred by this loss. They quickly appealed Judge Bates' ruling. As the NYT put it about that appeal: "The decision signaled that the administration was not backing down in its effort to maintain the power to imprison terrorism suspects for extended periods without judicial oversight." Today, a three-judge panel of the D.C. Circuit Court of Appeals adopted the Bush/Obama position, holding that even detainees abducted outside of Afghanistan and then shipped to Bagram have no right to contest the legitimacy of their detention in a U.S. federal court, because Boumediene does not apply to prisons located within war zones (such as Afghanistan).
So congratulations to the United States and Barack Obama for winning the power to abduct people anywhere in the world and then imprison them for as long as they want with no judicial review of any kind. When the Boumediene decision was issued in the middle of the 2008 presidential campaign, John McCain called it "one of the worst decisions in the history of this country." But Obama hailed it as "a rejection of the Bush Administration's attempt to create a legal black hole at Guantanamo," and he praised the Court for "rejecting a false choice between fighting terrorism and respecting habeas corpus." Even worse, when Obama went to the Senate floor in September, 2006, to speak against the habeas-denying provisions of the Military Commissions Act, this is what he melodramatically intoned:
As a parent, I can also imagine the terror I would feel if one of my family members were rounded up in the middle of the night and sent to Guantanamo without even getting one chance to ask why they were being held and being able to prove their innocence. . . .

By giving suspects a chance -- even one chance -- to challenge the terms of their detention in court, to have a judge confirm that the Government has detained the right person for the right suspicions, we could solve this problem without harming our efforts in the war on terror one bit. . . .

Most of us have been willing to make some sacrifices because we know that, in the end, it helps to make us safer. But restricting somebody's right to challenge their imprisonment indefinitely is not going to make us safer. In fact, recent evidence shows it is probably making us less safe.
Can you smell the hypocrisy? How could anyone miss its pungent, suffocating odor? Apparently, what Obama called "a legal black hole at Guantanamo" is a heinous injustice, but "a legal black hole at Bagram" is the Embodiment of Hope. And evidently, Obama would only feel "terror" if his child were abducted and taken to Guantanamo and imprisoned "without even getting one chance to ask why and prove their innocence." But if the very same child were instead taken to Bagram and treated exactly the same way, that would be called Justice -- or, to use his jargon, Pragmatism. And what kind of person hails a Supreme Court decision as "protecting our core values" -- as Obama said of Boumediene -- only to then turn around and make a complete mockery of that ruling by insisting that the Cherished, Sacred Rights it recognized are purely a function of where the President orders a detainee-carrying military plane to land?
Independently, what happened to Obama's eloquent insistence that "restricting somebody's right to challenge their imprisonment indefinitely is not going to make us safer; in fact, recent evidence shows it is probably making us less safe"? How does our policy of invading Afghanistan and then putting people at Bagram with no charges of any kind dispose people in that country, and the broader Muslim world, to the United States? If a country invaded the U.S. and set up prisons where Americans from around the world where detained indefinitely and denied all rights to have their detention reviewed, how would it dispose you to the country which was doing that?
One other point: this decision is likely to be appealed to the Supreme Court, which serves to further highlight how important the Kagan-for-Stevens replacement could be. If the Court were to accept the appeal, Kagan would be required to recuse herself (since it was her Solicitor General's office that argued the administration's position here), which means that a 4-4 ruling would be likely, thus leaving this appellate decision undisturbed. More broadly, though, if Kagan were as sympathetic to Obama's executive power claims as her colleagues in the Obama administration are, then her confirmation could easily convert decisions on these types of questions from a 5-4 victory (which is what Boumediene was, with Stevens in the majority) into a 5-4 defeat. Maybe we should try to find out what her views are before putting her on that Court for the next 40 years?
This is what Barack Obama has done to the habeas clause of the Constitution: if you are in Thailand (as one of the petitioners in this case was) and the U.S. abducts you and flies you to Guantanamo, then you have the right to have a federal court determine if there is sufficient evidence to hold you. If, however, President Obama orders that you be taken to from Thailand to Bagram rather than to Guantanamo, then you will have no rights of any kind, and he can order you detained there indefinitely without any right to a habeas review. That type of change is so very inspiring -- almost an exact replica of his vow to close Guantanamo . . . all in order to move its core attributes (including indefinite detention) a few thousand miles North to Thompson, Illinois.
Real estate agents have long emphasized "location, location, location" as the all-determining market factor. Before we elected this Constitutional Scholar as Commander-in-Chief, who knew that this platitude also shaped our entire Constitution?
UPDATE: Law Professor Steve Vladeck has more on the ruling, including "the perverse incentive that today's decision supports," as predicted by Justice Scalia in his Boumediene dissent: namely, that a President attempting to deny Constitutional rights to detainees can simply transfer them to a "war zone" instead of to Guantanamo and then claim that courts cannot interfere in the detention. Barack Obama quickly adopted that tactic for rendering the rights in Boumediene moot -- the same rights which, less than two years ago, he was praising the Supreme Court for safeguarding and lambasting the Bush administration for denying. Vladeck also explains why the appellate court's caveat -- that overt government manipulation to evade habeas rights (i.e., shipping them to a war zone with the specific intent of avoiding Boumediene) might alter the calculus -- is rather meaningless.
UPDATE II: Guest-hosting for Rachel Maddow last night, Chris Hayes talked with Shayana Kadidal of the Center for Constitutional Rights about the Bagram ruling and Obama's hypocrisy on these issues, and it was quite good, including a video clip of the 2006 Obama speech I excerpted above:
And in The New York Times, Charlie Savage has a typically thorough examination of the impact of the ruling. As he writes: "The decision was a broad victory for the Obama administration in its efforts to hold terrorism suspects overseas for indefinite periods without judicial oversight." But GOP Sen. Lindsey Graham (author of the habeas-denying provision in the Military Commissions Act) "called the ruling a 'big win' and praised the administration for appealing the lower court's ruling," and that's what really matters.
---------------------------------------------------------------------------------------------------------------
http://www.voltairenet.org/article165458.html
french text:
obama ne peut pas fermer guantanamo
source: reseau Voltaire
The secret behind Guantánamo
Thierry Meyssan*
20 May 2010
You think that you are informed about what happened at Guantánamo and you are astonished that President Obama is reluctant to close this torture centre. You're wrong. You are not aware of the underlying purpose of this "facility" and why it is vital for the current administration.
Thierry Meyssan reveals the horrifying facts in this article first written in November 2009. Subsequent developments have proven him right:
plans to close Guantánamo have been put on hold
indefinitely.
We all remember the torture pictures that circulated on the Internet. They were purported to have been taken by a few soldiers as war trophies. Even so, unable to verify their authenticity, the mainstream media did not take the risk of publishing them. It was not until April 2004 that CBS broadcast a story on the abuses. It was the spark that triggered a big campaign denouncing the ill-treatment of Iraqi detainees. Abu Ghraib prison showed that the alleged war against the dictatorship of Saddam Hussein was in fact a war of occupation just like the rest, with the same litany of crimes. Not surprisingly, Washington attributed the abuses to a few unrepresentative individuals, labelled as "bad apples", acting without the knowledge of their military command. Some soldiers were arrested and tried for the example. The case was closed until the next round of revelations.
Meanwhile, the CIA and the Pentagon were getting U.S. and western public opinion into gear for a shift in moral values. The Agency had appointed an agent to liaise with Hollywood, Colonel Brandon Chase (Tommy Lee Jones' coursin) and hired famous writers (like Tom Clancy) and scriptwriters to write new films and television series. The aim was to stigmatise Muslim culture and trivialise torture in the name of fighting terrorism.
For instance, the adventures of agent Jack Bauer in the 24H series, were copiously subsidised by the CIA to make sure that with each new season the threshold of tolerance would be pushed a little farther. In the early episodes, the hero intimidates suspects in order to extract information. In successive episodes, all characters suspect each other, and then torture each other, with progressively fewer qualms and the ever stronger conviction they are complying with their patriotic duty. In the collective imagination, centuries of humanism were being swept away and a new form barbarism was setting in. Thus, Washington Post columnist Charles Krauthammer, (who is also a psychiatrist) countenanced the use of torture as a "moral imperative" (sic) in these troubled times of war against terrorism.
In 2006, a Council of Europe investigation headed by Swiss Senator Dick Marty was released, establishing that the CIA had kidnapped thousands of people worldwide, including dozens or even hundreds within the boundaries of the European Union. Then came an avalanche of evidence of crimes committed inside the prisons at Guantanámo Bay (Caribbean) and Baghram (Afghanistan). Already thoroughly conditioned, public opinion in NATO member states had no problem accepting the official explanation, which was perfectly in line with the fictional intrigues it had been ingurgitating: to save innocent lives, Washington had to resort to secret practices; suspects were taken away and forced to talk through methods which were morally reprehensible but made necessary in view of their effectiveness.
On this simplistic narrative, candidate Barack Obama stood up against the outgoing Bush administration, pledging to make the prohibition of torture and the closure of secret prisons the overriding measures of his mandate. During the transition period following his election, he surrounded himself with top-level lawyers with the task of elaborating a strategy that would put an end to this black episode. Once in the White House, he dedicated his first executive orders to the implementation of his commitments. His eagerness enthralled international public opinion, generated enormous sympathy for the new president and renovated the image of the U.S. worldwide.
Except that more than one year after Barack Obama's election, if it's true that several hundred individual cases have been resolved, nothing has changed in substance. Guantanamo is still there and will not be closed in the foreseeable future. The associations for the defence of human rights are categoric: violence against detainees has worsened.
Asked to comment on this, Vice-President Joe Biden said that the more he delved into the matter, the more he discovered aspects which were previously unknown to him. Then, enigmatically, he warned the press against opening this Pandora's box. For his part, White House legal adviser Greg Craig handed in his resignation, not because he deemed to have failed in his mission to close the center, but because he believed that afterwards his task would have proved impossible.
Why can't the President of the United States get his entourage to obey him? If everything has been said about the abuses of the Bush era, why talk about a Pandora's box; what is there to fear?
In reality, the system is more pervasive. It is not just limited to some abductions and a prison. Most of all, its function is radically different from what the CIA and the Pentagon have given us to understand. But before we begin our descent into hell, there is one confusion that needs to be clarified.
Defence Secretary Donald Rumsfeld participated in meetings with the Group of Six, tasked with identifying the torture practices to be executed by U.S. forces. The photo was taken during his visit to Abu Ghraib prison (Iraq).
Counter-insurgency
What was done by the U.S. Army in Abu Ghraib, at least initially, bears no comparison with what is being experimented by the Navy in Guantánamo and in its other secret prisons. The Army did what all armies do when acting like a police force and faced with a hostile population. They subdue and terrorise it. In this case, the Coalition Forces replicated the crimes committed by the French during the Battle of Algiers against the Algerians, while at the same time referring to them as "compatriots". The Pentagon called upon retired French Army General Paul Aussaresses, a specialist in "counter-insurgency", to brief senior U.S. officers.
During his lengthy career, Aussaresses attended the United States wherever they were waging "low intensity wars", mainly in Southeast Asia and Latin America.
At the end of the Second World War, the United States set up two training centers specialised in these techniques, the Political Warfare Executive Academy (Taiwan) and the School of the Americas (Panama). Torture courses were dispensed to those in charge of the repressive apparatus in Asian and Latin American dictatorships. In the years 60-70, the setup functioned within the World Anti-Communist League, of which the Heads of State [1] involved were members. This policy was widely implemented in operations such as Phoenix in Vietnam (neutralisation of 80,000 people suspected of belonging to the Viet Cong) [2] and Condor in Latin America (elimination of political opponents across the continent) [3]. The same scheme, which coupled cleanup of insurgent areas with death squad activities, has been applied in Iraq, especially during Operation Iron Hammer [4].
The only novelty is that the GI's are provided with a classic of colonial literature, "The Arab Mind", written by anthropologist Raphael Patai, with a foreword by Colonel Norvell B. Atkins, owner of the John F. Kennedy Special Warfare School, the new name of the infamous School of the Americas since its relocation to Fort Bragg (North Carolina) [5]. The book, which proffers ridiculous stereotypes about "Arabs" in general under a pseudo-scientific sheen, includes a famous chapter on sexual taboos that inspired the scenes staged at Abu Ghraib.
The torture practices in Iraq do not constitute an isolated case, as the Bush administration would have us believe; they form part of a counter-insurgency strategy. The only way of stopping it is not to condemn them on moral grounds but to eradicate their political causes. However, Barack Obama keeps on pushing to a later date the withdrawal of foreign forces from Iraq.
Best-selling author, the father of Positive Psychology, Professor at Pennsylvania University and former President of the American Psychological Association, he supervised the torture experiments on Guantánamo prisoners.
The experiments of Professor Biderman
From a different perspective, Air Force psychiatrist Dr. Albert D. Biderman had investigated the brainwashing of U.S. POWs in North Korea on behalf of the Rand Corportation.
Long before Mao and communism, the Chinese had developed sophisticated methods to break the will of detainees to drill confessions into them. They were used during the Korean War with promising results: U.S. prisoners of war convincingly confessed before the press to crimes they had probably not committed. Biderman presented his initial findings at a Senate hearing on 19 June 1956, and before the Academy of Medicine in New York the following year (See documents downloaded below). He diagnosed the five distinct stages the "subjects" go through, as follows:
1. At first the prisoner refuses to cooperate and recedes into silence.

2. Through a mixture of brutality and kindness, he is taken through the second stage where he denies the charges against him.

3. Then, the prisoner starts to cooperate. He continues to proclaim his innocence, while trying to appease his interrogators by acknowledging that he might have made a mistake unintentionally, by accident or inadvertently.

4. By the fourth stage, the prisoner has lost all self-esteem. He continues to deny the accusations, but concedes they are of a criminal nature.

5. At the end of the process, the prisoner confesses his guilt. He even invents additional details to further incriminate himself and finally demands to be punished.
In addition, Biderman examined each of the techniques used by Chinese torturers to manipulate prisoners: isolation, control of their sensory perception, fatigue, threats, rewards, display of power by the jailers, deteriorating living conditions, stress. Physical abuse is of secondary importance while emotional abuse is all-encompassing and permanent.
Biderman's works on "brainwashing" have acquired a legendary dimension. The U.S. military feared that their men could be subverted by the enemy, and conditioned to say and, even worse, do anything. Consequently, they devised a training programme for their fighter pilots that would render them impervious to this form of torture and unyielding to the enemy, if captured. This training is known as SERE, which stands for Survival, Evation, Resistance, Escape. Though the course was originally organised at the School of the Americas, it has now been extended to other categories of military personnel and is conducted on several bases. Furthermore, training programmes of this nature have been set up in every NATO country.
After the invasion of Afghanistan, the Bush administration decided to apply these techniques to implant confessions in the prisoners which would prove, post facto, Afghanistan's involvement in the attacks of September 11, thereby Washington's version of those attacks.
New facilities were built on the Guantánamo naval base where experiments have been carried out. Albert Biderman's theory was complemented by a civilian psychologist, Professor Martin Seligman, a high-profile figure who is the former President of the American Psychological Association.
Seligman exploited a weakness in Ivan Pavlov's theory of conditioned reflexes. A dog is placed in a cage where the floor is split into two parts. One of the two sides is electrified at random. The animal jumps from one to the other trying to protect itself - so far, nothing surprising. Then, the momentum picks up and the entire cage is electrified. The animal realizes that it can not escape and that his efforts are futile. Soon, he gives up; he lies on the ground and enters into an altered state of consciousness that enables it to passively endure the suffering. The cage is then reopened. Surprise: the animal does not run away. The mental state it was in suppressed the dog's resistance. He stays lying down to endure the pain.
The Navy formed a high-powered medical team. In particular, it invited Professor Seligman to Guantánamo. This practitioner is a celebrity, renowned for his works on depression. His books on optimism and confidence are international bestsellers. It was he who oversaw the experiments on human guinea pigs. Just like the dog, certain prisoners who are subjected to terrible torture drift spontaneously into a psychological state that allows them to endure pain while draining them of all resistance. Through such manipulations, the prisoners quickly accede to stage 3 of the Biderman method.
While still relying on Biderman's teachings, U.S. torturers, under Professor Seligman's supervision, experimented and perfected every single coercitive technique. To do this, a scientific protocol was developed involving the measurement of hormonal fluctuations. To this end, a medical laboratory was installed at Guantánamo, where saliva and blood samples are taken at regular intervals on guinea pigs to assess their reactions.
The torturers have elevated their crimes to a new level of sophistication. For example, within the SERE programme, control of prisoners' sensorial perception was achieved by way of sleep prevention using stressful music. Much better results were obtained by broadcasting the despairing cries of babies for days on end. Or again, brandishing the supremacy of the jailers by subjecting the prisoners to beatings. In Guantánamo, they created the Immediate Reaction Force, a group in charge of punishing prisoners. When in action, its members wear Robocop-style body armor protection. They extract the prisoner from his cage and put him in a room with padded and upholstered plywood walls. They fling the human guinea pig against the wall as if to smash him, but the plywood partially absorbs shocks so that the victim is dazed but his bones are not broken.
The main progress achieved was on the waterboarding technique. Ages ago, the Holy Inquisition used to plunge the head of a prisoner in a bathtub, pulling it out just before complete drowning. The sensation of imminent death provokes maximum anxiety. But the practice was primitive and accidents were frequent. Now, the prisoner is no longer immersed in a full bathtub; he is attached lying down in an empty tub. Water is poured over his head to induce sufffocation; the procedure can be instantly interrupted as necessary. In this way, accidents are rare. Each session was codified to determine the limits of endurance. Auxiliaries are there to measure the amount of water used, the timing and duration of suffocation. At this stage, they recover any vomit, then weigh and analyze it to evaluate the amount of energy spent and the ensuing state of exhaustion.
As summed up by the CIA Deputy-Director before a congressional committee: "This has got nothing to do with the practices of the Inquisition, except for the water" (sic).
The experiments of U.S. doctors were not conducted in secrecy like those of Dr. Josef Mengele at Auschwitz, but under the direct and exclusive control of the White House. Everything was reported to a decision-making group of six people: Dick Cheney, Condoleezza Rice, Donald Rumsfeld, Colin Powell, John Ashcroft and George Tenet, who attested to having participated in roughly a dozen of these meetings.
The outcome of these experiments is nevertheless disappointing. Rare are the guinea pigs who turned out to be receptive. Although it proved possible to inculcate a confession in them, their condition remained unstable and exposing them to public interrogation would have been too risky.
The best known case is that of pseudo-Khalil Sheikh Mohammed. He was arrested in Pakistan and accused of being an Islamist Kuwaiti, although it was clearly a case of mistaken identity. After being tortured at length and, in particular, subjected to waterboarding 183 times during the single month of March 2003, the individual finally confessed to being Khalil Sheikh Mohammed and to having organized 31 different attacks in the four corners of the earth, including the one at the World Trade Center in New York in 1993, as well as the bombing of a nightclub in Bali, the beheading of journalist Daniel Pearl and, last but not least, the attacks of September 11, 2001. Pseudo-Sheikh Mohammed maintained his confession before a military commission, but it was not possible for the lawyers and military judges to question him in public, for fear that once outside his cage he might renege on his confession.
To conceal the covert activities of the doctors at Guantanamo, the Navy organized media tours for the benefit of complacent journalists. Thus, French essayist Bernard Henry Levy volunteered to play witness by visiting what was safe for him to see. In his book American Vertigo, he assures that the prison is no different from other U.S. penitentiaries and that the reports on the alleged abuses being perpetrated "were rather exagerated" (sic) [6].
The USS Ashland, one of the U.S. Navy's off-shore prisons. The ship's flat-hold bottom has been redesigned to accommodate several tiers of prisoner cages.
Navy prisons offshore
In sum, the Bush administration considered that very few people could be manipulated to the point of believing that they had perpetrated the attacks of September 11. It concluded that it was necessary to test a large number of prisoners to be able to identify the most responsive.
Given the controversy around Guantánamo and in order to avoid indictment, the Navy developed other secret prisons which it set up in international waters beyond the reach of any international jurisdiction.
17 flat-bottomed ships - the kind used for troop disembarkment - have been converted into floating prisons fitted with cages like those used at the Guantanamo center. Three were identified by the U.K.-based association Reprive: USS Ashland, USS Bataan and USS Peleliu.
If one adds up all the people who over the past eight years have been taken prisoner in war zones or abducted anywhere in the world, a total of 80,000 persons are likely to have transited through the system, of whom less than one thousand have been pushed to the final stages of the Biderman process.
Consequently, the dilemma faced by the Obama administration is the following: it will not be possible to close Guantanamo without disclosing what was being done there. And it will be impossible to do that without also acknowledging that all the confessions obtained are false and were deliberately inculcated under torture, with the political consequences that it entails.
At the conclusion of the Second World War, twelve trials were held by a military tribunal at Nuremberg. One was devoted to 23 Nazi doctors. Seven were acquitted, nine were sentenced to prison and seven were sentenced to death. Since then, a Code of Medical Ethics was adopted, establishing the ethical rules of medicine worldwide. It prohibits precisely what U.S. doctors have done at Guantanamo and in other secret prisons.
Attached documents
---
[1] La Ligue anti-communiste mondiale, une internationale du crime, by Thierry Meyssan, Voltaire Network, 12 May 2004.
[2] [Opération Phénix, by Arthur Lepic, Voltaire Network, 16 November 2004.
[3] Read the book of reference Operación Cóndor, Pacto criminal by Stella Calloni. « Stella Calloni presentó en Cuba su libro "Operación Cóndor, Pacto criminal" », 16 February 2006. See also on Voltaire Network: « Berríos y los turbios coletazos del Plan Cóndor », by Gustavo González, 26 April 2006; « Los militares latinoamericanos no saben hacer otra cosa que espiar », por Noelia Leiva, 1 April 2008; « El Plan Cóndor universitario », by Martín Almada, 11 March 2008.
[4] Operation "Iron Hammer" in the War of Iraq, by Paul Labarique, Voltaire Network, 11 December 2003.
[5] The Arab Mind, by Raphael Patai, foreword by Norvell B. De Atkine, Hatherleigh Press, 2002.
[6] American vertigo, by Bernard-Henry Lévy, Grasset & Fasquelle 2006.