.
http://www.waynemadsenreport.com/articles/20070430_117

Wayne Madsen is a former US Navy officer and a former NSA employee..
The Litvinenko radiation poisoning and a mysterious plane crash
March 21, 2007
Amid the hype over the radiation poisoning death of ex-Russian intelligence agent and Boris Berezovsky colleague Alexander Litvinenko last November, a little-reported story about a helicopter crash went largely unnoticed. In what may have been an indication of who and what was behind the Litvinenko poisoning and the attempts by Italian right-wing politicians to discredit both Russian President Vladimir Putin and Italian Prime Minister Romano Prodi, the activities of a mysterious firm tied to Berezovsky and his former Yukos Oil business partner, Tel Aviv-based Leonid Nevzlin, are under renewed scrutiny.
On January 2, 2007, WMR reported: "In another full circle between Tel Aviv and Italy, Menatep's [Group Menatep -- the Gibraltar-based firm behind Yukos since renamed GML] former chief for investment management Alexei Globuvich said, after his arrest last Spring in Italy, that Nevzlin may have tried to poison him and his family after mercury was found in his office, home, and car. Globuvich said he was a threat because he knew where Yukos and Menatep assets were located. Shortly thereafter, a Scotland Yard officer handed over to the British security firm ISC Global plans by the British government to extradite a number of Russian-Israeli exiles in Britain to Russia. ISC Global had been part of Menatep and Nevzlin was one of its chief customers. The London offices of ISC Global, now known as RISC Management, were visited in November 2006 by Litvinenko and Russian businessmen Andrei Lugovoi and Dmitry Kovtun and traces of polonium-210 were discovered there. According to the Sunday Times of London, Russian police are also investigating whether the poisoning of Litvinenko and the attempted poisoning of Globuvich are connected to the radiation poisoning death two years ago of Roman Tsepov, a former bodyguard of Putin when he was deputy Mayor of St. Petersburg. Tsepov was involved in the Russian government's tracking of Yukos assets. Also of interest are connections to the June 2004 assassination of Forbes Russian edition editor-in-chief Paul Klebnikov, a U.S. citizen who wrote a damaging expose of Berezovsky. Three Chechen contract killers were charged in Klebnikov's murder. The same Russian-Israeli mob ring is also being looked at in the investigation of the assassination of Russian journalist Anna Politkovskaya of Novaya Gazeta as a way to embarrass Putin."
Attention is being drawn to a May 14, 2006 article in the Times of London. In March 2004, British attorney Stephen Curtis, the chairman of ISC Global, died, along with his pilot, in a helicopter crash near Bournemouth Airport. The two were on their way to Dublin. The Times reported a James Bond-like secret project by ISC Global, jailed Yukos tycoon Mikhail Khodorkovsky, and Nevzlin to launch an international smear campaign to discredit Putin and other members of the Russian government, including Defense Minister Sergei Ivanov, other ministers, and officials of state-owned energy companies. Doctored "compromising" photographs were to be used in the smear campaign. Also targeted by the Russian gangsters was Russian tycoon and Chelsea football team owner Roman Abramovich, who had earned the wrath of Nevzlin, Berezovsky, and others because Putin allowed Abramovich to retain his billions in wealth and travel freely to and from Russia.
According to The Times, Curtis, who managed a £16 billion portfolio for Menatep, was under surveillance and had been threatened in the weeks before his death. He told a relative, "If anything happens in the next two weeks then it won't be an accident." After his death, Curtis' home was found to contain a small magnet used for a bugging device. It also was revealed at the Curtis death inquest that the British attorney had been in contact with British police "on many occasions" concerning the activities of his Russian clients.
ISC was to obtain a luxury yacht, the Constellation, that would become a headquarters for exiled Russian-Israeli oligarchs (a la "SPECTRE"-- SPecial Executive for Control, Terrorism, Extortion, and Revenge) wanted by Moscow for fraud. The yacht would have its own armed SWAT team and crew to repel any attacks. The yacht would be outfitted with bullet proof glass and "white noise" generators to prevent eavesdropping. Prostitutes invited on board would be specially screened by a "trusted agency." Nevzlin authorized the anti-Putin project in a 12-page dossier marked "Secret." In the document, Putin is referred to as "X." British ex-SAS commandos were to be used as personal bodyguards to protect the exiled Russian tycoons from kidnapping and extradition by Russian agents.
Fact vs. fiction: No difference with the forces out to bring down Russian President Putin.
On January 11 this year, Yuri Golubev, 64, a Yukos cofounder, along with Khodorkovsky, and colleague of former Yukos deputy chairman Nevzlin, was found dead in his bed in London. Police ruled the cause of death as "natural causes." Our sources in Britain report that the scandals surrounding British Prime Minister Tony Blair and key members of his government are part and parcel of the fact that Britain's government has been co-opted by the Russian-Israeli mobsters, much in the same way that their American colleagues, acting through neo-con proxies, have captured control of the Bush administration. The British honors-for-cash scandal, British defense contractor malfeasance, and phony intelligence about Iraqi WMDs laundered through the British government, are all results of the mobsters' control of Blair and his advisers.
--------------------------------------------------------------------------------------------------------------------------------------
http://www.guardian.co.uk/world/2007/apr/13/topstories3.russia

I am plotting a new Russian revolution'
London exile Berezovsky says force necessary to bring down President Putin

Ian Cobain, Matthew Taylor and Luke Harding in Moscow

13 April 2007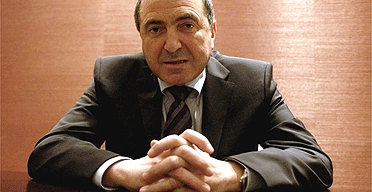 The Russian tycoon Boris Berezovsky has told the Guardian he is plotting the violent overthrow of President Putin from his base in Britain after forging close contacts with members of Russia's ruling elite.
In comments which appear calculated to enrage the Kremlin, and which will further inflame relations between London and Moscow, the multimillionaire claimed he was already bankrolling people close to the president who are conspiring to mount a palace coup.
"We need to use force to change this regime," he said. "It isn't possible to change this regime through democratic means. There can be no change without force, pressure." Asked if he was effectively fomenting a revolution, he said: "You are absolutely correct."
Although Mr Berezovsky, with an estimated fortune of £850m, may have the means to finance such a plot, and although he enjoyed enormous political influence in Russia before being forced into exile, he said he could not provide details to back up his claims because the information was too sensitive.
Last night the Kremlin denounced Mr Berezovsky's comments as a criminal offence which it believed should undermine his refugee status in the UK.
Dmitry Peskov, the Kremlin's chief spokesman, said: "In accordance with our legislation [his remarks are] being treated as a crime. It will cause some questions from the British authorities to Mr Berezovsky. We want to believe that official London will never grant asylum to someone who wants to use force to change the regime in Russia."
It will not be the first time the British government has faced accusations from the Kremlin that it is providing a safe haven for Mr Berezovsky. When he told a Moscow radio station last year that he wanted to see Mr Putin overthrown by force, Jack Straw, then foreign secretary, told the Commons that "advocating the violent overthrow of a sovereign state is unacceptable" and warned the tycoon he could be stripped of his refugee status.
Russian authorities subsequently sent an extradition request to London. That failed, however, when a district judge ruled Mr Berezovsky could not be extradited as long as he has asylum status.
In an interview with the Guardian, however, Mr Berezovsky goes much further than before, claiming to be in close contact with members of Russia's political elite who, he says, share his view that Mr Putin is damaging Russia by rolling back democratic reforms, smothering opposition, centralising power and flouting the country's constitution.
"There is no chance of regime change through democratic elections," he says. "If one part of the political elite disagrees with another part of the political elite - that is the only way in Russia to change the regime. I try to move that."
While declining to describe these contacts - and alleging that they would be murdered if they were identified - he maintained that he was offering his "experience and ideology" to members of the country's political elite, as well as "my understanding of how it could be done". He added: "There are also practical steps which I am doing now, and mostly it is financial."
Mr Berezovsky said he was unconcerned by any threat to strip him of his refugee status. "Straw wasn't in a position to take that decision. A judge in court said it wasn't in the jurisdiction of Straw."
He added that there was even less chance of such a decision being taken following the polonium-210 poisoning last November of his former employee, Alexander Litvinenko. "Today the reality is different because of the Litvinenko case."
Mr Berezovsky, 61, a former mathematician, turned to business during the Yeltsin years and made his fortune by capturing state assets at knockdown prices during Russia's rush towards privatisation.
Although he played a key role in ensuring Mr Putin's victory in the 2000 presidential elections, the two men fell out as the newly elected leader successfully wrested control of Russia back from the so-called oligarchy, the small group of tycoons who had come to dominate the country's economy.
A few months after the election Mr Berezovsky fled Russia, and applied successfully for asylum in the UK after Mr Litvinenko, an officer with the KGB's successor, the FSB, came forward to say he had been ordered to murder the tycoon.
Mr Berezovsky changed his name to Platon Elenin, Platon being the name of a character in a Russian film based loosely upon his life. He was subsequently given a British passport in this name.
As well as claiming to be financing and encouraging coup plotters in Moscow, Mr Berezovsky said he had dedicated much of the last six years to "trying to destroy the positive image of Putin" that many in the west held, portraying him whenever possible as a dangerously anti-democratic figure. He said he had also opposed the Russian president through Kommersant, the influential Russian newspaper which he controlled until last year.
Last month Mr Berezovsky was questioned by two detectives from the Russian prosecutor general's office who were in London to investigate the death of Mr Litvinenko. He has denied claims that he refused to answer many of their questions.
Last night the Kremlin said Russian authorities might want to question him again in the light of his interview with the Guardian. "I now believe our prosecutor general's office has got lots of questions for Mr Berezovsky," said Mr Peskov. He added: "His words are very interesting. This is a very sensitive issue."
The Foreign Office said it had nothing to add to Mr Straw's comments of last year.
----------------------------------------------------------------------------------------------------------------
http://www.waynemadsenreport.com/articles/20070427_59
November 27, 2006
The poisoning death of former Russian KGB and Federal Security Service (FSB) colonel Alexander Litvinenko, a critic of the Russian government of Vladimir Putin, is being blamed on the Russian-Israeli Mafia by a number of Russian officials.
The Russian officials point out that Litvinenko, described as a Russian-Israeli "double agent," was the perfect choice to set up for a false flag assassination just as Putin was attending a Russia-European Union summit in Helsinki.
Russian journalist Anna Politkovskaya of the liberal newspaper Novaya Gazeta and a fierce critic of Putin was assassinated a few days before Putin was due to make an important visit to Germany. Former Soviet President Mikhail Gorbachev, who is a shareholder of Novaya Gazeta along with billionaire Alexander Lebedev, wrote an editorial in the paper in which he correctly noted that, "those who killed Anna Poltikovskaya wanted to hit Putin."
One Russian official told The Sunday Times of London, "If you ask the question who had the most to gain from all this, the answer can only be Berezovsky, a man who by his own admission is out on a campaign to discredit Putin and the Kremlin."
Litvinenko's assassination from poisoning with Polonium 210, a radioactive isotope, was quickly blamed on Putin by Russian-Israeli mafia figure Boris Abramovich Berezovsky. Litvinenko claimed he was sent by Moscow to London to assassinate Berezovsky but refused to carry out his orders. Litvinenko defected to Britain via Turkey, the latter a major trans-shipment nexus for radioactive materials -- including cesium-137, radium, iridium, strontium-90, uranium, thorium, and plutonium-239 -- sold by the Russian-Israeli Mafia to the highest bidders.
It is also no coincidence that Turkey is the home to a major support network for the Chechen guerrillas and that one of their leaders, Ahmed Zakayev, is a close associate of Berezovsky and was also linked to Litvinenko.
Litvinenko reportedly passed classified information damaging to Russian leaders to Russian-Israeli businessman Leonid Nevzlin, the former chief executive officer of Yukos Oil who is the subject of a Russian government arrest warrant for murder, embezzlement, and tax evasion. Nevzlin, a former head of the Russian Jewish Congress, is currently living in Tel Aviv under the protection of the Israeli government. Nevzlin's exiled Russian-Israeli comrades include Vladimir Dubov, a major Yukos shareholder and wanted oligarch Vladimir Gusinsky. The wanted ex-Yukos officials have also been linked to wealthy British businessman Jacob Rothschild.
Nevzlin's former boss at Yukos, Mikhail Khodorkovsky, is in a Russian prison for tax evasion. The assassination of Litvinenko to embarrass Putin is similar to the false flag assassinations carried out by Russian-Israeli Mafia figures of Lebanese politicians in order to lay blame on Syria (as previously reported by WMR).
Litvinenko's dodgy association with leading Russian-Israeli mafia figures, most of whom are wanted by Russia for looting and misappropriating the the assets of the Soviet Union, likely made him a convenient target for an exotic gangland-style hit. His reported role as a Russian-Israeli double agent, selling secrets to the highest bidders, also shortened his life expectancy. Litvinenko also was problematic for a number of criminal syndicate leaders especially considering the fact that his special operations task in the FSB was the targeting of foreign businessmen -- many of whom are leading figures in the global Russian-Israeli Mafia and some with direct links to the White House. Litvinenko, therefore, knew many of the secrets about the Russian-Israeli Mafia -- secrets that may have cost him his life.
"Sasha" Litvinenko kept a number of dodgy friends and associates tied to the Russian-Israeli mob and Chechen guerrillas.
Britain is under tremendous financial pressure from the Kremlin to extradite Berezovsky to Moscow to stand trial. The assassination of Litvinenko and the blame placed by the neo-con media on Russia as the culprit buys Berezovsky some British sympathy and a little time.
The involvement of Litvinenko with Israeli organized crime bosses was reported at the same time the Washington Post reported on the counterfeiting of U.S. $100 bills by a South Ossetia-based organized crime ring operating with Russian-Israeli mobsters based in the Republic of Georgia and Israel.
On October 27, 2004, a courier for the counterfeit ring, Hazki Hen, met with an undercover Secret Service agent at a hotel in Linthicum, Maryland near Baltimore-Washington International Airport. Hen, who had just arrived from Tel Aviv, offered to exchange $230,000 in counterfeit Ben Franklin notes for $80,000 in real currency. Hen also agreed to supply an additional $1.5 million in counterfeit hundred dollar notes and discussed the potential of delivering as much as $100 million on counterfeit bills in the future. Hen was not charged by the Federal government until November 2005 and then, after he claimed he was too ill to stand trial, was permitted by federal prosecutors to return to Israel.
Russian-Israeli mobsters are also reported to be counterfeiting U.S. Postal money orders and American Express Traveler's Checks in Eastern Europe.
The Hen case is yet another example of the U.S. government failing to fully prosecute Israeli criminals, spies, and other threats to U.S. national security. The same scenario has played out with "Al Qaeda" financier Yehuda Abraham, a New York U.S-Israeli diamond dealer who was laundering money for the Russian-Israeli mob and a Malaysian linked to Al Qaeda affiliate Jemaah Islamiya; Asher Karni, a South African-Israeli who was shipping nuclear triggers from the United States to the A. Q. Khan network in Pakistan; and various Israeli spies caught around sensitive U.S. facilities posing as art students, movers, and tourists.
Note: The screenwriters of the new James Bond film, Casino Royale, are on to the real life mobsters. Not only is a Montenegro-based mob ring (Montenegro is one of the centers for the Russian-Israeli syndicate) featured as engaging in international terrorism in order to manipulate the stock market, but there is a reference by "M" (Judi Dench) that a similar mob ring engaged in stock "put" options before the 9/11 attacks in order to make tons of money on the world markets. It would seem that fictional spies know more about the threat from international mobsters than do their real life counterparts.
"M" (left) gets the threat, FBI's Robert Mueller (right) does not.